…Stock overvalued – Analysts
…Management assures stakeholders of brighter future
By Emeka Anaeto, Economy Editor
Investors appear decided  to toe the path of caution based on the advice from investment specialists on Unilever Nigeria Plc after a linger with the strong brand equity. A stockbroker had told Vanguard that many shareholders would rather remain with Unilever despite clear evidence of declining performance and lack of clear path to recovery, attributing the shareholders' positive sentiment to long standing pedigree of the multinational.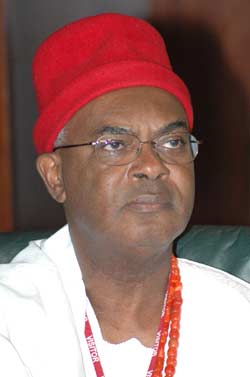 This sentiment had driven up stock gains even when the company had posted bad results in the second quarter 2016. Consequently, capital gains had risen up till October 26, 2016 when the most recent bad result, third quarter 2016 was announced.
However, the sentiment appears to have waned and cautiously reversing. As at close of trading yesterday the share price had dropped to N48 with a significant loss of fortune to the investors amounting N7.6 billion, as its market capitalisation dropped.
Consequently, the significant gain it had year-to-date, YtD, which was 15.6 per cent as at when the Q3'16 result was announced has dropped to 10.98 per cent yesterday.
But in a communication to Vanguard Investment Reports yesterday, Unilever assured its stakeholders that it would continue to focus on key business drivers, especially cost efficiencies in order to ensure sustained growth and returns on investment.
Top-line, Bottom-line at variance
Despite significant top-line growth in third quarter, 2016 (Q3'16), Unilever recorded Year-on-Year (YoY) and Quarter-on-Quarter (QoQ) decline in bottom-line and could have almost hit outright loss position if not for a tax credit of N449.8 million.
The company's production costs have risen quite significantly over the last two quarters, denying earnings the benefits from product price increases. Unilever's finance cost in Q3 was at a record high level, as its outstanding bank borrowings. Thus, the double-digit sales growth and 21.1% decline in Operating Expenses (OPEX) YoY, were not strong enough to offset a -1,187 basis points YoY shrink in gross margin.
Also with an over 70% exposure to imported raw materials, the persistent foreign exchange challenges continues to weigh on the company's input cost.
Unilever stock is overvalued – Cordros Capital
Relecting on Unilever's financials in nine-months 2016, analysts at Cordros Capital Limited, a Lagos based investment house, noted that the company's production costs have risen quite significantly over the last two quarters, a development which they said undermined accretion to bottom-line from increased product prices and robust top-line.
Consequently, the analysts have effected a downward revision of their forecasts on the company's performance. They stated: "Notwithstanding, we look for 2016F Profit After Tax (PAT) growth of 32% (down from 46%), driven specifically by the continued impact of a strong first quarter performance and the tax credit booked in the third quarter.
"Having said that, we believe it will take a while for Unilever's PAT to recover to the 2009-2013 level (of N4 billion and more). "We forecast PAT to contract by 37.4% to N987 million in 2017 (down from a 5% growth initially forecasted)" The analysts based their downward review on the significant drop in revenue growth; elevated production cost base; tax charges, compared to expected credit in 2016; and high interest expenses on increased debt balance.
They however, see a return to increasing profit to N2.6 billion and N2.9 billion in 2018 and 2019 respectively.
On cost pressures arising from Unilever's exposures to bank borrowings, Cordros Capital analysts stated: "Unilever's finance cost in Q3 was at a record high level, likewise outstanding borrowings. The company has a recent history of debt accumulation impacting adversely on earnings through high finance costs.
"We have increased finance cost expectation for 2017 on the back of increased borrowings over the last two quarters, after a marked reduction in the first quarter and forex losses on USDollar loans (representing 53.4% of total loans)".
On the positive, the analysts noted that sales, even amidst tough business environment, will remain supported by measures such as continued innovation, improved packaging, local campaigns, brand extension, and the resilience of the Food division.
They stated: "Rather than price increases, we think revenue (via volume) will be buoyed by these measures, in addition to favourable brand mix (emphasizing expected recovery in the Personal Care division)".
However, Cordros' investment outlook for Unilever's stock is bleak. According to them, "the stock has accumulated 12% gain YtD, but gained 44% in Q3, which we find unfounded.
"Despite weak earnings recovery prospect, Unilever is currently the most overvalued (-68.8% implied return) among our universe of consumer companies, with the stock trading on a forward PE of 69x, at 38% premium to Bloomberg's SSA, MEA and Nigerian peers". Consequently, the analysts placed a 'SELL' rating on the stock, part of the reasons for the recent investors' apathy and hence a bear run.
We recommend 'SELL' for the stock – ARM Investment
Similarly, analysts at ARM Investments Limited, another Lagos based investment house, were uncomfortable with the Unilever financial and stock profile. They stated: "Looking through  Q3 results, the strong earnings largely reflects impact of a ¦ 450 million tax credit which drove an  eight-fold YoY increase in PAT to ¦ 467 million. "Though revenue growth was strong during the quarter, input cost pressures were evident with gross margins sliding 12pps YoY to a record low of  24.7%.
"We link input cost pressures in the quarter to the impact of  higher domestic prices for key inputs and currency weakness. Impact of elevated CoGS and higher finance charges underpinned the plunge in PBT (-84.2% YoY to N17 million).
"Unilever currently trades at a P/E of 69.6x vs. 21.9x for its Bloomberg Middle East & Africa peers. Last trading price of N48.01 is at a premium to our last communicated FVE of ¦ 21.96 which translates to a 'SELL' rating  on the stock".
 
Long road to recovery – FBN Capital
Analysts at FBN Capital Limited, a subsidiary of First Bank of Nigeria Plc, were equally critical of the valuation of Unilever equity based on the recent financial results.
They stated: "Unilever Nigeria's Q3 2016 sales were stronger than we expected. However, PBT was weak and fell 88% short of our estimate because of a negative surprise in net finance charges.
As such, we have cut our earnings (pre-tax profit) forecasts over the 2016-17E period by 9% on average".
The analysts at FBN Capital had earlier indicated that Unilever stock should be trading significantly lower than current price, hence they had put the price target at N20.40 as against over N48 it was trading then. They are still holding on to that price target after making significant cuts on other forecasts for the multinational. According to them, "despite the cut to our earnings estimates, we have left our price target unchanged at N20.40 as we believe the scale of the disappointment in the near term does not warrant a significant reduction in the long term fundamentals".
However, they stated: "While our long term sales growth outlook remains healthy, we have reduced our long term Earnings Before Interest and Tax (EBIT) margin forecast by 200bps to 13%".
Expressing worry over the equity valuation, they stated: "In the last 3 months, the shares have gained 37.3% which we find difficult to justify. From current levels, the shares show a potential downside of -57.5% to our price target. We have retained our Underperform rating". On the future of Unilever, FBN Capital sees a long road to recovery.
Consequently, they stated: "Unilever's earnings recovery in Q4 2015 and Q1 2016 was short-lived due to a combination of gross margin contractions and increase in net finance costs recorded in the succeeding quarters. We expect to see further YoY contractions in gross margins due to the CBN's decision to float the Naira.
"Although the company plans to source 90% of its raw materials locally by 2020, we would need to see some progress on this for our view to turn positive".
Management Pulse
Responding to the inquiries from Vanguard Investment Reports Management of Unilever Nigeria stated: "We are driving efficiency throughout the organization and this has become evident in the operating expenses. We have increased focus on cost efficiencies and optimization of resources.
"Although the operating environment remains challenging, Unilever has continued to see momentum behind process improvements, cost and operational efficiencies. Unilever will continue to focus on driving cost efficiencies, increasing market share across key categories and reinvesting behind our core brands".
On why cost of sales was increasing faster than revenue they stated: "We believe this cut across all industries. The impact of currency devaluation and inflation on cost of sales explains why the cost of sales is increasing faster than rate of increase in revenue".
To address the foreign exchange induced cost pressures the Management said it is focused on backward integration plans, driving towards 100% local sourcing over time, adding that "at the moment, localization and on-shorting options are being explored to reduce dependence on imported raw materials".
Additionally, the Management stated: "Although the operating environment appeared even more turbulent as trading conditions remained difficult in the third quarter of 2016 amidst rising costs, increase in interest rates, foreign exchange illiquidity and pressure on consumers' disposable income, however, we have continued to navigate the challenging operating terrain through dynamic planning and optimization of resources. We remain resilient and determined to succeed and our aim is to continue to drive performance while ensuring that we remain connected to our consumers".