By Osasu Obayiuwana
As the year gradually inches to a close – we barely have six weeks left in 2016 – I am thinking of the friends I've lost this year, Ken Saro-Wiwa being one of them.
Ken's death, at 48 (I'm just a year younger than him) totally floored me.
But it is the passing away of the 'Big Boss', Stephen Keshi, that shook me to my core. To be frank, I am yet to get over it.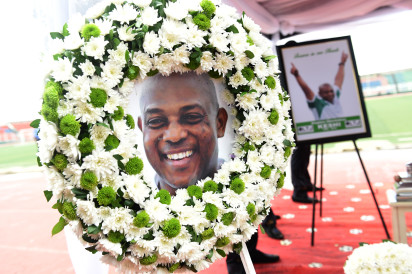 Waking up at the Hyatt hotel in Rio de Janeiro, Brazil, on 8th June, at 1am, to hear that this icon of African football had suddenly died, at 54, left me deeply distressed.
It was only weeks later, on 31 July – two days after he had been buried in his Illah compound – that Kanayo Mudabai, Keshi's close relative, told me, with painstaking detail, how the two-time African football champion spent his last moments on earth.
Mudabai was one of the last people to see him alive.
During that second visit to the graveside, after the multitude had gone, I also met Mary Ado, Stephen's only sister.
We both listened to a 2012 recording of my last major interview with Stephen, a few months before his glorious triumph at the 2013 Africa Cup of Nations in South Africa, where he became the second of two men on the continent to win the trophy as a captain (in 1994) and a coach.
"Stephen knew, very early, his calling in life," she recalled.
"My parents would find out that he skipped [primary] school to play football and he would be punished by not being given food…
"Often, when he was so hungry, he used to beg me to sneak him some. But all the punishment never made him stop playing," she laughed.
She also told me about how devastated Stephen was, after losing Kate, the love of his life for over 30 years, in December last year.
Stephen never hid the central role that his wife had played in the success that his life became.
"Whatever I achieved in my life, has been through the grace of my wife, and God," he said.
Kate Keshi, neé Aburime, died in December 2015, after losing a long battle with cancer.
"When I heard from my brother that Kate had died, I wept… I wondered how my brother was going to cope without her," said Mary.
"I kept calling him, to see how he was doing. But he really didn't want to publicly express how he was feeling… he never liked burdening other people with his problems.
"Stephen was a man who had handled his own business from a very young age, so he was really never very good at revealing his innermost feelings. He always felt that he could handle his issues on his own, without help from anyone.
"He would tell me that he was okay, even when I knew he was not."
"He didn't share [his problems]," Kanayo Mudabai confirmed. "Even when you tried to force things out of him, he'd look for a way to change the topic."
"When he thought no one was watching, I would hear him talk to Kate, like she was still alive.
"'Nkem ["My own" in Igbo], we did not plan things like this," I would hear him say," Mudabai said.
"At least he has gone to be with the woman that he loved."
Having served his nation with distinction for over 30 years, one would have expected Keshi to be buried with full honours and the eternal gratitude of the Nigerian government, keen to publicly acknowledge and reward patriotic service.
But in shocking contrast to what happened with Senzo Meyiwa, the murdered South Africa goalkeeper, who got a state burial, Keshi's family had no official presence from the Nigerian government.
Solomon Dalung, Nigeria's sports minister, was inexplicably absent from the funeral.
The federal government's behaviour towards the Keshi family was a total disgrace and a profound act of ingratitude.
"There are no words to express how Keshi laboured and sacrificed for this country," Taribo West, the former Inter and AC Milan defender, told me.
"Stephen was my idol, he was someone I looked up to… The very poor way his funeral process was handled is a very bad sign for young players. It gives the impression that one labours for one's nation for nothing. It's painful and sad."
Mary says he would not have been surprised at his shabby treatment in death.
"If Stephen could have spoken to us, he would have told us (his family) to forget them (the government) and just do our thing.
"Nigeria does not appreciate its heroes… If it had been a politician [that died] the whole of Abuja [referring to the government] would have emptied to attend the funeral."
"I still find it unbelievable that he's gone. I still have the feeling that he'll speak to me, that I'll see him again."
Two memories that I have of Stephen are engraved in my mind.
One is of a conversation in 1999, in San Francisco, California. Spending a morning by a seaside café, over drinks, I told him that he was certainly going to be the Super Eagles manager one day.
Then out of football and quite disillusioned by the sport that brought him fame, Big Boss laughed it off and casually dismissed the thought.
The second memory was 14 years later, on 10 February 2013, at Soccer City in Johannesburg, when I saw him lift the Africa Cup of Nations, which Nigeria had not won in nearly 20 years.
It was, without question, the highpoint of his brilliant managerial career and a great moment of vindication to witness.
Dennis Sharpe, an American writer, made this remark about heroes: "They have faults and flaws. They stumble from time to time.
"They are heroes, though, because they correct themselves… and set an example, intended or not, for the world observing them… even, and especially, to those who would love nothing more than to see them fail."
It's a befitting epitaph to lend to a man I am proud to call my friend.