Justin Timberlake has revealed his forthcoming fifth studio album is "more singular" than 2013's 'The 20/20 Experience'.
Justin Timberlake's forthcoming album punches people "between the eyes" with its sound.
The 35-year-old star is working on his fifth studio album and he admits it is going to be quite different to his 2013 double record 'The 20/20 Experience', insisting his upcoming LP will be "more singular".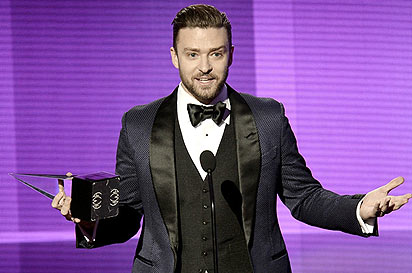 He said: "I wouldn't say [my new material] is the antithesis of '20/20,' but it does sound more singular.
"If '20/20′ sounded like it literally surrounds your entire head, this stuff feels more like it just punches you between the eyes."
But Justin fans will have to keep waiting for news of a release for his fifth album as the 'Mirrors' hitmaker admits he doesn't have a drop date in mind and will only put the record out when it feels "right".
He said: "I think everyone I'm working with right now knows that I'm notorious for being like, 'Yeah let's work. I have no idea when I'll put it out, though.'
"I'll put it out when it's done – when it feels right."
Justin – who has 19-month-old son Silas with wife Jessica Biel – admits he is simply taking each day as it comes and "enjoying" his life more.
He added to Variety: "I'm just in the now of now. I think it's an effect of just enjoying my life more. For a long time I lived my life for a lot of other people, or for the idea that those other people had an idea of me.
"And whatever – there's a guy who's gonna wake up tomorrow and transfer an organ from one body to another and save someone's life — so what are we even doing?"
Justin has teamed up with Pharrell Williams on his next album and the producer has revealed the pair have six "solid" tracks ready for the record.
He said: "Song-wise, I think we've got a good solid six that are like, 'Whoa, what was that? Play that again.'
"I would pay Justin a huge compliment to say he's just discovering who he is now."
Subscribe for latest Videos