By Josef Omorotionmwan
IN times of increased problems, people would look at every direction for possible solutions. By mid-1970s, the city of Lagos had become so clumsy. That was when Tai Solarin (1922-1994) was asked to offer a view on how some sanity could be infused into Lagos. Solarin did not hesitate an inch before saying that anyone intent on reclaiming Lagos must enter into an aero-plane flying over Lagos; bomb down the entire city and begin to rearrange it.
Such would have suggested by now that the Nigerian judiciary has reached a boiling point where all it qualifies for is a state of emergency. You begin by sacking all the judges; try all the stained ones, throw them into prison, and throw  the prison keys into the deepest part of the Atlantic Ocean. Only then can you embark on the process of fresh recruitments.
Our judiciary is already on the edge of a precipice and there is no time on our side. We have cried out long enough that a system of justice of Cash and Carry portends danger – nobody comes out smiling. The presumed winner knows he has been totally bruised, having spent his last kobo and has also taken all available loans to purchase justice; and the loser is pained, knowing he has been deprived.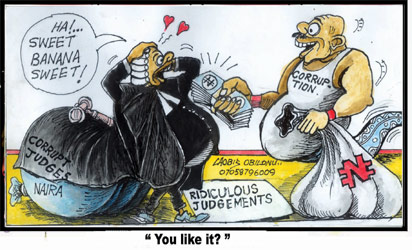 The system benefits nothing from the process because the fines are paid to the judges. Beyond where we are right now, everyone loses faith in the judiciary. When that happens, society is the worse for it. We shall soon realise that self-help is the worst help. Where a man cannot buy a judge or brief a lawyer, he can brief an assassin; where he cannot brief an assassin, he can sharpen his cutlass and deepen his self-help!
There is a clear dichotomy in the reactions of the poor and the rich to the recent break and entry of the DSS operatives into the homes of some judges. For the poor class, it doesn't make a difference where and when you arrest a man who has stolen your property.
As far as the poor man is concerned, society should not continue to create undue advantage for the thief who does not even give us any notice before pouncing on our property; and he is also solely in charge of the timing of his operations
The body language of the rich is loud and clear – he is scared stiff. If the DSS operatives are not restrained, the rich are in trouble. Invariably, any of the houses of the rich raided at midnight, the DSS will find larger sums of unbankable hard currencies than they found with the judges. That is the very basis of their reactions. And that is how pervasive corruption has become in Nigeria.
We once had a judiciary that was widely regarded as the last hope of everyone. But not anymore. Everything has become monetised. In a good system, people would respect sound judgments at all levels of adjudication but in Nigeria today, every case travels all the way to the limits, in most cases, the Supreme Court. Litigants now shop openly for justice – they never can tell at what level justice will be available for purchase. This is also a clear demonstration of the loss of faith in the courts.
Our courts are hopelessly over-congested, thus aggravating the already bad cases of awaiting trial and removing the certainty of punishment. Elsewhere in the advanced democracies, areas prone to high crime run shifts in their criminal courts, and then the rapidity of decisions can be assured.
In the just-concluded US presidential election, the voting machines in some areas malfunctioned for a short time. Some affected parties went to court to ask for extension of voting in those areas. In a few hours, the court granted the required extension. In Nigeria, this would have dragged long into the Tribunal process, after the elections. Justice delayed is justice denied.
This undefined wealth has a way of blinding its possessors. Imagine a situation where a judge is alleged to have an unexplainable quantity of foreign currencies in his house. Rather than attempt to prove his innocence, he comes forward to say that a member of another party has attempted to influence him to change his judgment. That does not explain the presence of such huge amount in his house. If anything, had he accepted the latter offer, it means the DSS would have met a bigger amount of foreign money when they came calling. That's just how infantile otherwise intelligent men have become.
On the eve of his departure from office, the former CJN, Mahmud Mohammed, handed down two seemingly wobbling orders: Judges accused of corruption shall be suspended and they shall return if not found guilty. Is this not a presumption of guilt until proven innocent, which is a far departure from the familiar common law dictum of innocence until proven guilty? And what of the cases of people on trial while occupying some of the highest offices in the land? Why should the judiciary be treated differently?
Secondly, he enjoins whoever sees a corrupt judge to report but not to inform the media. Informing the press is ground for discontinuing the case. Is it not also clear that any judge who has an incriminating case against him would simply leak the case to the press as a way of discontinuing same?
Again, the National Judicial Council, NJC, as currently constituted may be weak and thoroughly ineffective. The system today requires an NJC that is vibrant, made up of retired Judges – men and women who were above board in their service years and now capable of independent thinking and action.
A good war on corruption demands that some of the big names should be in prison by now. Without prejudice to the outcome of the ongoing presidential Committee on Judicial Reform, the time has come to do something drastic on the judiciary. Let's show a few examples of how to treat a thief! Lest we shall be consumed.