By Owei Lakemfa
I HAVE tried to write the story of Chief Rasheed Abiodun Gbadamosi  a number of times  in the last 14 years. But it had been a gargantuan task I have postponed a number of times, and circumstances had postponed a few times. Although we did not agree  ideologically,  but he was a humanist whose point of connection with people were their humanity,  intellect and capability.
A  man of ideas, when you made a good point, he conceded. Even when you are on different sides on an issue, he still reached out. He was Chairman of the Petroleum Products Pricing and Regulatory Agency,PPPRA, which many Nigerians see as the  government's  instrument for increasing petroleum product prices, and thereby adding to the suffering of the people. In 2004, while on my way from Abuja to coordinate a publicised  mass street protests against  fuel price  increase in Lagos, I met him in the aircraft. Naturally we discussed  the planned protest. When we landed,  he  asked if I had a car, I shook my head and he said let me give you a ride. I hesitated and explained that I knew he was headed for Lagos Island or Victoria Island while I was going to Yaba, which was off his way. He smiled and said "You are going to the NLC Office?", I nodded.      Don't worry, I am not complaining, I will drop you off"."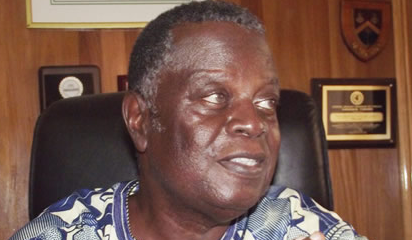 He was politically committed without being partisan. In 1990, there was a split in the Social Democratic Party,SDP, over the choice of the  party's gubernatorial candidate in Lagos State between Femi Agbalajobi and Dapo Sarumi. Rather than lose the election, there was a clamour to pick a neutral person in Gbadamosi. But he made it clear he would be unavailable to be the SDP's flag bearer in an election the party was greatly favoured to win.
Gbadamosi was considered an establishment man and a highly successful  industrialist to whom partisan politics was an anathema. So when the military regime declared Chief Moshood Kashimawo Abiola wanted for  declaring  himself President of Nigeria  despite the annulment of his Presidential victory, they could not have suspected  Gbadamosi to be sheltering him.
Gbadamosi  was one of Nigeria's best sons who began an unbroken service to the country 43 years ago when at the age of 29, he was appointed Lagos State  Commissioner for Economic Development. He was one of the 49 'Wise-men' who  drafted the country's 1979 Constitution and   Minister of National Planning.
Very few Nigerians have traversed as much  area and made as significant  an impact  on various facets of the Nigerian national life as Gbadamosi. His life, taken along with that of his father, read like the industrial  history of Nigeria.  That story began with the father establishing his own business in 1934 and taking on the transnational United African Company, UAC, in a trade war over garment manufacturing in the country. To gain the upper hand, the Senior Gbadamosi  imported Japanese machines to produce cheaper under-wears than the UAC. He subsequently went into tobacco distribution, ceramics production, brewing and was instrumental to the establishment of one of the first indigenous banks, the National Bank to rival the British colonial banks; Barclays Bank and the Bank of British West Africa.
Gbadamosi who returned to the country after his graduate and post-graduate studies in Britain and United States, started work in his father's company.  He built on his heritage by becoming a major player in virtually all sectors of the economy, from construction and engineering to metal works, textile, insurance, pension and  computers. He was a pioneer manufacturer of bottled water with his Ragolis brand; the name derived from his initials, R.A.G.
So the Gbadamosi story  is  in a way, the critical narration of the Nigerian story from the perspective  of one of its most active, articulate, brilliant and conscientious sons. It is the story of Nigeria from the prism of a man who served it with demonstrable distinction in the public and private sectors, was entrusted with ministering to the country's   planning needs  and who was conferred with the national honour, Officer of the Federal Republic, OFR, in recognition  of  his  distinguished contributions.
His story and that of the country is neatly woven in five major areas. First, it covers part of the country's industrial development in the last 70 years.
Secondly, his story in the past four decades, is a history of public service at top policy positions across areas like  Economic and Industrial Development, National Planning, Constitution  Drafting, Electricity, Railways, Tertiary Education and  External Debt Rescheduling.
This also has international dimensions including his leading the Nigerian delegation to the Organisation of Oil Exporting Countries (OPEC) 1998/99 meeting and assisting in the relocation of sixteen United Nations agencies from Lagos to Abuja.
Thirdly, it encompasses  the oil sector; the country's monoculture  in which he was for over a dozen years  involved in its monitoring, policy  formulation and sustainable  development. The 323-page  book, The Story of the Deregulation of the  Nigerian Downstream Oil Sector which he co-authored with two others; Funsho Kupolokun and Oluwole Oluleye, is a veritable resource material on the sector.
Fourthly, the Gbadamosi and Nigeria  stories are linked in the genre of literature, visual arts and music; areas which defined various stages of social life.   Gbadamosi, a master story teller himself with  six plays and thirty short stories to his credit, interacted or  worked with masters in these fields  from Nobel Laureate Wole Soyinka, through Femi Osofisan and Bruce Onabrakpeya to Fela Anikulapo-Kuti and Ola Rotimi who was his senior in secondary school. He worked  closely with Fela  whom he met in a London underground train in 1961. In  1970, they co-founded the  Nigerian Association of  Patriotic Writers and Artists, NAPWA,   Gifted musician, Wole Bucnor was NAPWA President, Fela, Vice President and Gbadamosi, Secretary. Until he passed away, Gbadamosi helped to keep  Fela's legacy alive. He also contributed to the construction of  the new Afrika Shrine.
Gbadamosi is also one of the three major art collectors  in Nigeria, and financier of various art genres including film, and emergent talent.
Fifthly, he  worked  with, interacted or was familiar with many builders of modern Nigeria from Chiefs Obafemi Awolowo, Samuel Ladoke Akintola, Fatai Rotimi Williams  and Moshood Kashimawo Abiola, to Generals Mobolaji Johnson, Olusegun Obasanjo and Abdulsalami Abubakar. At the level of industry, he interacted with men like Dr. Christopher  Kolade and  Chris Ogunbanjo while in the media, he was home with the giants like Alhaji Babatunde Jose, Sam Amuka, Alade Odunewu and Segun Osoba, who was his classmate. Despite  his demise, I have not given up trying to write the Gbadamosi story; he earned his place in the history of our country.