By Michael Eboh
The Nigerian National Petroleum Corporation, NNPC, yesterday, denied any plan to further hike the price of Premium Motor Spirit, PMS, also known as petrol, stating that current realities on ground didn't support any increase.
Addressing newsmen in Abuja, Group General Manager, Group Public Affairs Division of the NNPC, Mr. Muhammad Garba-Deen, said there was absolutely no plan by the Federal Government or the NNPC to increase fuel price above the N145 maximum level.
According to him, if there is going to be anything like a price hike, the agency responsible for fixing the price of petrol, the Petroleum Products Pricing Regulatory Agency, PPPRA, will definitely sensitise Nigerians on it and give reasons for the hike.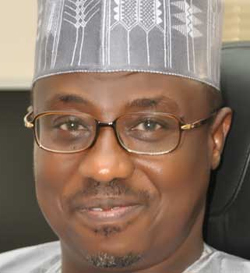 He disclosed that at present, there was no subsidy on petrol, adding that the long term contracts entered into by the NNPC with buyers and suppliers of petroleum products had addressed the issue of foreign exchange volatility.
He said: "As per this moment, there is absolutely no plan to do that and no need to do that, because we have more than enough supply; we have very robust stock of product in our custody. In addition to that, we also have long term procurement contract with our suppliers.
"The usual reason that would necessitate a review of price at the moment had been taken care of.  We have long term procurement contract with our suppliers; we have more than enough supply to last us throughout the ember months and beyond.
"The statement people are referring to was made within the context of technical explanation, not within the context of downstream operations."
Garba-Deen further stated that a new window had been opened for oil marketers to easily access foreign exchange to meet their fuel importation needs.
According to him, the new foreign exchange window, which commenced about two weeks ago, also addressed the challenges surrounding access to foreign exchange.
He said:  "The marketers had been complaining and their complaints have been addressed adequately to their satisfaction.    A new window has been opened for them, and in fact, what is happening now is that we are waiting for them to deliver.
"A new window to make foreign exchange, FOREX, available for them for their importation needs have been opened and they are satisfied with it. We have fulfilled our own side of the bargain; we are waiting for them to deliver on their own promises."
Garba-Deen stated that at the moment, there was a glut in the market in terms of petroleum product supply, as most marketers currently had excess products and were looking for buyers to take the products off them.
"What we have at the moment is a glut in the market. We have people who have already imported and are looking for off-takers, people to buy their products. We have a glut in the market.
''You can testify if you go around, not only in Abuja, but every state capital in the country, that there is not even a hint of scarcity. So, what will generate or necessitate the need to increase price, none,'' he said.
He further stated that the country's refineries had returned to production, though producing below their installed capacity at present.
"The refineries had returned to production, but it has been on an 'on-and-off' kind of thing. They are back. Port Harcourt has been producing and so is Kaduna. Challenges will always come, because the refineries have been working for a long time. Long term repairs are also in the making. You know about the plans to co-locate some new refineries within the existing one and upgrade these ones.
"By the time these ones are done, which would probably be by 2018, then the refineries would be producing at optimal capacity. Now it is an on and off thing, they are producing, but not to the capacity that is expected," he noted.
Furthermore, the NNPC spokesperson disclosed the corporation has a robust supply arrangement that can guarantee sustainable fuel supply over a long period of time, while he urged Nigerians not to engage in panic buying of petrol.