By Josef Omorotionmwan
WE heartily congratulate the Royal Family and, indeed, the entire people of Benin Kingdom on the strings of success coming our way at this time. The 20th of October will go down as a red-letter day in the history of this Kingdom.
Today, His Royal Highness, Crown Prince (Amb.) Eheneden Erediauwa, Edaiken N' Uselu, is being crowned as the New Oba of Benin. This may have attempted to dwarf another important fact about the day into insignificance; but history remains sacrosanct and cannot be easily ignored.
The 20th of October is the day that the Crown Prince was brought into this world. It is a happy and very rare coincidence that a King is being coroneted on his birthday anniversary. It is a sign of many good things to come. To God be the glory.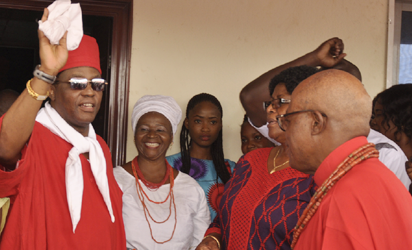 Evidently, the congratulatory arena is thoroughly over-crowded; and it is not our intention to add so much to the tons of congratulatory messages from all parts of the world on this occasion. We shall, therefore, dwell less in this area.
As morning shows the day, it is expedient at this point to go straight into the business of agenda-setting for our new King. But first, what is our Royal Father bringing to the table?
His full biography will be left for another day but we must quickly mention that this is one man who is thoroughly grounded in education and cognate work experience. It is note-worthy that the Crown Prince parades very tall academic credentials, acquired from some of the best institutions in Nigeria and abroad, notably in Britain and the United States of America.
The Crown Prince was a Diplomat extra ordinaire. During the period 1997-2012, under military and civilian administrations, he was Nigerian Ambassador three times as follows: first he was our Ambassador to the Kingdom of Sweden, with concurrent accreditation to the Kingdoms of Norway and Denmark and the Republic of Finland.
Secondly, he was Nigerian Ambassador to the Republic of Angola before serving as the Nigerian Ambassador to Rome, with concurrent accreditation to the Republic of Albania. In all these countries, he served very meritoriously.
Before his Diplomatic forays, the Crown Prince served on the Board of the Integrated Data Services Limited, IDSL, a subsidiary of the NNPC, and on the Boards of numerous companies.
This is one man who has refused to be deterred by the privileges of his birth. He has remained enterprising and industrious. In the spirit of enterprise, he has to his credit, many companies, including those engaged in manufacturing, construction and civil engineering works, educational institutions as well as voluntary organisations in furtherance of the course of humanity.
God has enthroned for us a man who is bringing to the throne a tremendous success story in every aspect of life. It is our earnest desire that this huge success shall be used in furtherance of the course of the nation. This underscores the need to begin to place demands of what we expect during his reign. Because of space constraint, the points here shall be in the form of an outline, hoping that in due course, there will be time enough to expatiate on them:
Our 10-point agenda: (1) Unity of Benin people, especially the Elite, is a sine qua non for development. The Oba will do well to impanel a Committee to constantly work at this. Closely related to this is the Unity of Edo people and the need to promote inter-group relations with other Edo Sub-groups: "Edokpamakhin" should not be a term in abstraction. It is real.
(2) There is the urgent need to call Benin Youths to order from the very beginning, especially Community Development Association, CDA, leaders who sell one plot of land to several people.  This a common source of conflict, which invariably retards development, thus leaving a lot of bad blood on its trails.
(3) Call on Benin politicians to play politics of development, not politics of destruction. The Pull Him Down, PHD, syndrome among Benin politicians must stop! Much as it is impossible for all Benin people to be in one political party, whichever political party they belong should be used to develop Benin.
We can draw inspiration from the American blacks who got here much earlier. In the 1960s, they quickly realised that they had a common enemy – an oppressive American Government. Martin Luther King Junior's approach of passive resistance, which was more of turning the other cheek and Malcolm X's more radical approach of "even Steven", which meant that if they slapped you once, you should retaliate by slapping them twice, both brought positive gains from their different directions, all to the tremendous benefits of the black Americans.
(4) Diversification of Development among Benin Towns like Iguobazuwa, Idogbo, Ehor, Abudu, Okada, etc., instead of clustering all development efforts in Benin City.
(5) Benin must open and sustain links with the South-West while keeping the South-South flank open for economic and cultural integration
(6) The Igue Festival must be reinvigorated, internationalised; and turned to a major money-spinner as a hub for tourist activities.
(7) Benin Renaissance in Culture, Arts, Politics, Language, Economy, etc must be reawakened. Teaching of Benin language must be made compulsory in primary and secondary schools in the seven Local Government Areas of Edo South.
(8) Need for a powerful and radical Pressure/Lobby Group to fight for, and defend, Benin interest in State and National politics.
(9) Need to encourage Benin Youths to go to school and acquire good and functional education. In spite of the hard times currently facing the nation, there is no escaping the inevitable conclusion that tomorrow belongs to the educated.
(10) We must establish the BENIN WEEK. This will be a one week long annual event that will showcase activities and conferences. It could be built around the Oba's Coronation Anniversary. It will be open to all Benins at home and in the Diaspora. It will provide an opportunity to constantly review where we are and where we want to be. The future begins today!