Heritage Bank has expressed its readiness to collaborate with customers to grow businesses that would aid job creation and economic development.
The bank made the pledge in a statement issued in Lagos to celebrate Customers' Service/Appreciation Week.
The bank said it was poised to collaborate with its customers to grow their businesses to conglomerates to be listed on the nation's bourse.
Ms Adaeze Udensi, the bank's Executive Director, South Bank, was quoted by the statement as saying that the bank would continue to partner customers in their business expansion and development.
"Our desire is for Nigerian businesses to be listed on the stock exchange and eventually become global brands and household names.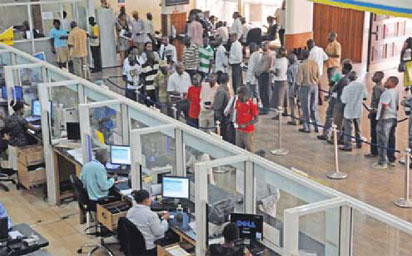 "We believe that businesses like yours are the backbone of the economy because you create jobs and play a huge role in moving our country out of this present recession.
"I encourage you to rise up to this challenge facing every Nigerian entrepreneur and make our economy vibrant again," Udensi said.
She said that the bank, in order to partner and create wealth for individual customers, organised the business fair to showcase and celebrate business activities of its various customers to commemorate the Customers' Service Week.
"The Heritage Bank business fair is where new deals are brokered and partnerships initiated and a place to connect," she said.
Mr Ola Olabinjo, the bank's Executive Director, Abuja & North Bank, was also quoted as saying that the business week of the bank was a sure foundation of taking Nigeria's economy out of recession.
Olabinjo said that small businesses were the foundation of every economy and assured them that the bank would grant them the necessary support to do this.
"It is not the size of the balance sheet of the bank that grows an economy, but the patriotism of the bank and the small businesses and we are determined to go the long walk with you," Olabinjo said.
The statement said that the event, which was open to all retail segments of Heritage Bank's clients, would be taken beyond Lagos to other cities across the country.
"It is all about giving back to our customers, finding ways to support them as well as appreciating them for their patronage.
"We are open to feedback as we get the feedback and clamour to do more; we can always adjust," she said.