By Yinka Odumakin
ON behalf of all users of the Lagos-Ibadan expressway, I am calling on the Minister of Works, Power and Housing, Mr. Babatunde Fashola (SAN) to immediately get German Construction company Julius Berger to stop the wickedness in high places that has been going on for months now on that major road.
This is the only way to avert the wrath of God as it is the height of insensitivity to subject your fellow citizens to the harrowing experience of users of that road since the Triple Ministry and the company that has made a kill in the country over the years decided to engage in unconscionable deception of the public by pretending they are working on that road whereas nothing is practically going on there.
In the last four months, Julius Berger has divided a portion of the bridge towards the Lagos end of that road into two with one excavator placed on the road and about six workers playing around with about four drums of tar.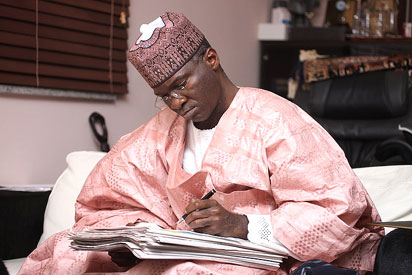 The resultant effect of the nuisance they have constituted on the road is long queues that stretch several kilometres round the clock from day -to-day on that portion of the road.
Some three weeks ago, I had to use that road driving in the same car with elder statesmen like Chief Ayo Adebanjo,Prof. Banji Akintoye and Dr. Amos Akingba.We had to spend over four hours between Sagamu and Lagos as we drove bumper-to-bumper moving at snail's speed. I was behind the steering and full of rage looking at the agony the old men with me were going through. At a point I  wondered what would happen if a vehicle went up in flames in such a logjam.
Two Saturdays ago, users of that road were caught in the jam for several hours and when they ran out of patience about 12 am  they all came down from their cars and started rolling away the dividers that the construction firm used to demarcate the road so they could ease the flow of traffic.They were perspiring after the hard labour just because they had to drive on the road.
Here is my reading of the nonsense that is unfolding on that road. The Ministry has released some money to Julius Berger but the deep throat is pocketing the funds as it may not be up to what it wants to take to mobilise fully to site but it has to give some funny impression that work is gong on. What it did was to divide the bridge where it does not have to dig the soil but just doing coating on the road.The time the company had spent on that portion of the road is sufficient to work on the entire stretch if it were serious about doing any construction there.
Yet, the people have been suffering untold hardship because of the propaganda value the Ministry and the construction company want to derive giving the false impression that they are working on the road. This is definitely not how any responsible government should behave. You cannot substitute governance with propaganda and sentence the people to unnecessary suffering and untold hardship.  Apart from the fears of mass loss of lives that may occur if an accident occurs in such dense traffic,there are larger health implications for road users consistently exposed to such heavy traffic. New public-health studies and laboratory experiments suggest that, at every stage of life, traffic fumes exact a measurable toll on mental capacity, intelligence and emotional stability. "There are more and more scientists trying to find out whether and why exposure to traffic exhaust can damage the human brain," says medical epidemiologist Jiu-Chiuan Chen at the University of Southern California who analyzed the effects of traffic pollution on the brain health of 7,500 women in 22 states. "The human data are very new."
To be sure, cars and trucks today generate one-tenth of the pollution of a vehicle in 1970. Still, more people are on the road and they are stuck in traffic more often. Drivers traveling the 10-worst U.S. traffic corridors annually spend an average of 140 hours, or about the time spent in the office in a month, idling in traffic, a new analysis reported.
You can imagine what the statistics  would be far worse in our clime where people spend day and night in unnecessary traffic congestion.
If Abuja cannot know what people are going through on this road now because of distance,Fashola is from the South West and he should know what his(the) people are going through on that road. This is why he must sack Julius Berger from that road and let him go and sort out whatever   money they have left to collected and save the users of that road from this excruciating pain.
In a restructured Nigeria,it would be better for the Federal Government to  mind its roads in Abuja and let those in the federating units who are within the reach of the people be in charge of the roads in their areas.
…Comrade Governor, one-man-one-vote
WHEN  Mr. Adams Oshiomhole spent several months at the courts to assume his mandate after he won the 2007 elections,one of the things he did when he became governor in Edo was to organise a one-man -one- vote campaign in the year 2010. The event went awry for him as Prof. Wole Soyinka, Senator Bola Tinubu and other guests took to their heels when they approached the venue and learnt that Gen. Ibrahim Babangida was already seated .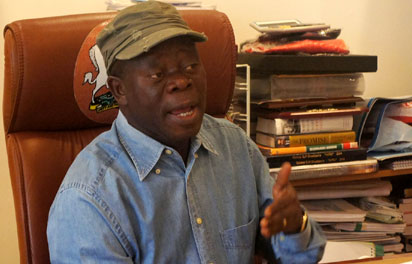 It was an ambush they were not prepared for.They reasoned that they would find it difficult to explain why they had to share  the podium with the man who annulled the June 12  election results in a campaign for free and fair election. But the former Labour leader was focussed on his own agenda.In any case, he was not a fan of June 12. He allegedly played more on the side of those who annulled that election within the Labour movement when the people were up in arms for almost five years.
By the time he contested for his second term in office in 2012, he had in Abuja a man who would not use the might of the Fed to secure victory for his party at all cost.After he won against the then ruling part, Oshiomole was full of praises for then President Goodluck Jonathan. Speaking with State House correspondents when he visited President Goodluck Jonathan, Gov. Oshiomhole commended the president for ensuring that the votes of the electorate counted, by deploying enough security personnel in the state to maintain law.
According to Oshiomhole, "the President warned that there will be no rigging, no  manipulation, no ballot snatching and orders were given to the army to ensure that none of those things happened and the army carried out the order.
"The Police IG was similarly instructed, he deployed his men probably much more than we probably needed and they delivered on the President's orders. The SSS were fantastic because they were always at the collating centres where some of the manipulations could take place. I have been a victim and so you would understand why I am familiar with it. And the SSS did a fanastic job, two plus two was four not five, not 15 and that made a lot of difference. So we need to appreciate the President and encourage him to sustain this principle of truly reminding all of us who hold political office."
Speaking on his allegation against INEC, Oshiomhole who waxed philosophical pointed out that " in my own part of the world the fact that you got home safely does not mean you should not investigate an accident scene. We had several meetings, I informed INEC in a petition about two months ago that my opponents in their strategic meeting sent out their men and they reported back that it would be impossible for them to win. But then, their leader insisted they must win and that this is his last time. They then agreed on a number of issues.
"One of them was that my support base in Benin City is very strong and incidentally, Edo South accounts for 55 percent of the total registered voters. And so they agreed that they were going to work with some people in the INEC on election day to delay supply of materials.  So, when you supply materials late, two things will happen: the number of persons who had queued up since 8 o'clock to wait for five hours will grumble if materials don't come, the average person will say, well I have done my best, if the material has not come I have to go home.
"Don't forget there are no eateries around the area and so people would have been compelled to fast. So the immediate implication of that is that you will find so many people would not able to vote.
"Number two, when you then push the elections into the dark hours in a country where you are not sure of power supply, when it is dark, it becomes easy for election manipulators to change numbers. So these I conveyed to Prof. Attahiru Jega and we raised it in the various stakeholders meeting that we had with him.
"I mean the reason Nigeria is not making progress is that we are afraid to tell the truth. It is not a big deal to be a governor but it is a big deal to tell the truth and to harass anyone who is responsible for dragging Nigeria backward."
Fast forward to 2016 when Oshiomole was about to install a successor. A curious security report was manufactured by some security agencies to get the election postponed for about three weeks.Grapevine sources claimed the polls conducted showed the ground was not smiling to the governor.  By the time the rescheduled day came,we did not see all the points Comrade was raising about one-man-one-vote in 2010.  Media reports largely showed we had more of the things he praised Jonathan for not doing when he had his own elections in 2012. The courts would be busy in the next few weeks over Edo elections and the less we say on it  the better. But for now those who ran from Ogbemudia Stadium in 2010 should now know who was more important to the Comrade between the man who annulled June 12 or those who protested the annulment.