By Tonnie Iredia
Voting in the recent Edo governorship election has ended with a winner declared by the Independent National Electoral Commission (INEC). Many of my friends and readers are earnestly feel I should comment on the event.  Well, this column mirrors the entire nation and not anyone state. Ample attention was given to Edo just before the election as it was the matter of the moment.
This column being knowledge driven can hardly go into speculations about what happened in an election in which my immediate constituency – the media and election monitors were not allowed into the centres where the collation of votes occurred. I will only reecho my premise that our nation has to do something about the trend whereby the more the number of law enforcement agencies in election venues, the more the number of electoral malpractices in such venues.  While we ponder over this till voting day in the coming Ondo election, it appears wise to focus on the issue of the day- poor economy and hunger in the land.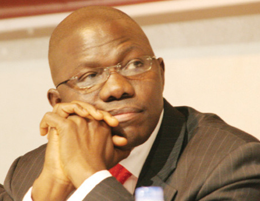 Nigeria is one country where economists abound. Unfortunately, there is no consensus concerning solutions to the nation's debacle. My famous Uncle Ajayi tells me how pained he is listening to or reading fruitless debates and barren discussions about our economy and recession. What people are likely to loathe the most, is the argument of sellers of favourite local foods like 'Akara' that the increase in the prices of their products is due to the American Dollar! Every hope that our people might soon comprehend what links Akara to the currency in use in the United States is dashed as our economists are busy with terminologies like 'macro-economics' and other inexplicable jargons which the ordinary man involuntarily ignores.
How I wish I can tell all those who have since despaired to take it easy as whatever goes up must come down. I saw that long ago because all through my career, I kept meeting so many jargon experts who almost ran me mad. There was this annoying colleague whose duty was to sell our products-TV programmes, jingles and airtime which he never handled well. When asked at meetings to explain the poor sales by his Marketing Department, he would spend half of the meeting time reeling out jargons which cannot be understood by the rest of us described by him as non-professional marketers. Through-out his tenure, he couldn't be persuaded that his mandate was sales and not jargons.
People should therefore understand why this columnist is not interested in professional terminologies which supersede organizational goals and why I am thus not part of the numerous analysts who have been doing the talking while our economy is worsening. Someone must help us tell them that macro or micro, gross domestic whatever or floor of the Nigerian stock exchange are irrelevant to the average citizen who cannot buy garri or basic foodstuffs. So, what we need are pragmatic managers who have vision, passion and integrity. One such visionary is a man called Remi Babalola who served under the late president Umaru Yar'Adua as Minister of state for finance between 2007 and 2010. One fateful day, Babalola gazed into the sky and told his fellow citizens that there was a major problem with our economic posture. He warned us to redress the situation forthwith with a proviso that if he was not listened to, the nation should be ready to go down by 2016. The ex-minister was specific, he didn't say about or around; he didn't use double negatives, he didn't employ the jargons of the weather man such as "partly cloudy or scattered thunder" etc, he said 2016. For daring to speak the truth which is an abomination in government, Babalola was rationalized and redeployed to Special Duties making him to promptly resign his appointment thereby avoiding to be counted, among our nation's spoilers.
Now, 2016 is here and of course, we are squarely facing the man's prediction. So, where is he now? Can he still save us? Well, Babalola, who is a Fellow of the Institute of Chartered Accountants of Nigeria, as well as Chartered Institute of Taxation of Nigeria holds a Masters of Business and Finance from the University of Lagos? If so, why was he just a minister of state in the past and after his prediction, why was he not mobilized to be part of this government?  Honest answers to these questions would illuminate the unending cause of Nigeria's dilemma- a view which this columnist has canvassed for no less than one decade now. In 2013, when Delta State hosted the initiative on 'Nigeria Beyond oil' as the theme of the 9th Edition of the Nigerian Guild of Editors Conference it was as if I was not on the same page with other members of the Guild when I argued that Nigeria's sole reliance on oil was not as problematic as the mismanagement of our economy.  In other words, even if we diversify our economy and Audu Ogbeh generates huge resources from agriculture, our problems will not be solved if such resources are also mismanaged as was done to oil money.
Sadly, the management of our nation is still as deficient as the colonialists programmed it to be. The cost of governance is still prohibitive, yet productivity is still abysmally low in the face of ridiculous public holidays. The politicisation of every public policy is yet to change, what we have changed is officials, not convoluted processes and procedures. Ministers are still functioning like sole administrators of Agencies and Parastatals with exigencies and temperaments foisted to subvert professionally organized schedules and targets. Our legislators still earn (sorry, receive) indeterminable exorbitant salaries leaving nothing on ground to build strong societal institutions that can be auto driven. Mundane discussions are officially encouraged to becloud even our constitutional provisions. For example, the plan to sell national assets as was done in the past and cheaply too is nothing more than government's abdication of its mandate under Section 44 of our constitution. What is more, by the time the assets are sold to a tiny group of lucky Nigerians; Section 16 of the said constitution would also have been breached. This is where people what change not the claim that "ministers now queue to buy petrol."
Subscribe for latest Videos