Nigeria's team to the Paralympic Games has arrived in Rio, Brazil.
Out of a total of 23 athletes, 6 will take part in Para athletics, 14 in Para Powerlifting and 3 in Para table tennis and accompanied by 12 officials including medical personnel, helpers, loaders and team administrators.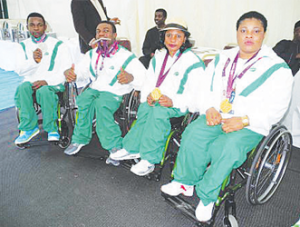 At a short ceremony held before their departure at the High Performance hostel, the Minister of Youth and Sports Barrister Solomon Dalung urged the team to compete fairly and be of good behaviour at the games.
" I bring you warm greetings from the father of the nation President Muhammadu Buhari. Mr President sends his goodwill and encouragement which is reduced to "Go and make Nigeria proud . I congratulate you for qualifying for the Paralympic Games at a time the country is undergoing trials. One thing that amazes me about you is your determination, commitment and patriotism. As you go for the games, compete fairly, honestly and give it your best."
The minister also urged the athletes to comport themselves and allow officials accompanying them to resolve any crisis that may arise.
"Whatever problems you may encounter, let us manage it very well. The idea of escalating our problems does not speak good of us as Nigerians.
We at the ministry of Youth and Sports have resolved that any athlete who goes out to represent Nigeria, will receive his or her bonus directly. All allowances will be paid to you before the games end" Dalung assured.
Responding, Captain of the team Lucy Ejike thanked the Minister and the Permanent Secretary Christian Ohaa for making it possible for Team Nigeria to be at the Paralympic Games.
"I want to assure you that we will do our best. Whatever we special people do, we put in all our effort so we urge you not to panic. We thank you for getting us new Wheelchairsand we are highly motivated as we ask you to watch out for us at the games".
The opening ceremony holds on 7th September 2016 .