By Vincent Ujumadu
Awka—THE people of Anambra Central senatorial zone have described as unfair, the continued delay in conducting the re-run election for the zone, arguing that they were being denied right of representation in the country's upper legislative chambers.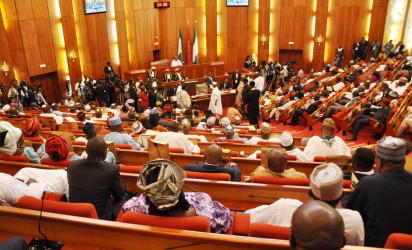 This came as the candidate of African Democratic Congress, ADC, in the election, Comrade Anayo Nweke wrote the chairman of the Independent National Electoral Commission, INEC, urging him not to succumb to the pressure of fixing a date for the election until all the cases pending in the courts were disposed of.
Some people interviewed by Vanguard in Awka and other parts of the zone yesterday regretted that while other zones in the country were pushing for social amenities through their senators in the senate, Anambra Central had nobody to speak for them.
Chief Clifford Nwagbo, a politician said he always felt bad whenever he watched senators from other zones speaking on the floor of the senate, knowing that his zone did not have any representative there.
While calling on politicians and other stakeholders from the area to bury their differences and withdraw the cases in court to enable INEC conduct the exercise, he reminded those who went to court over the matter that they were only punishing the entire people of Anambra Central by not having a representative in the senate.
Also speaking, Mr. Fabian Okoli from Achalla in Awka North local government area wondered why the Peoples Democratic Party, PDP, should hold the people of the zone to ransom by deliberately frustrating efforts to have a senator for Anambra Central.
He said: "All the senators have ensured that their areas were captured in this year's budget in terms of provision of dividends of democracy, but there was nobody to press for the inclusion of our needs. This is unfair and it can best be described as self marginalization brought about by some politicians in our zone."
However, in a letter addressed to the INEC chairman, the ADC senatorial candidate for Anambra Central, Comrade Nweke urged INEC to disregard calls for the fixing of a date for the election while cases were still pending in courts.
The letter read: "It is necessary to bring to your notice the pendency of some legal matters that may continue to delay the conduct of the rerun election in Anambra Central senatorial district. Some of these pending suits are: Comrade Anayo Nweke vs INEC in suit no: FHC/AWK/CS/69/2016 and PDP vs INEC pending at the Supreme Court."
He argued that in the interest of justice and fairness, the chairman should restrain the Commission from doing anything about the election until all the cases were disposed of.