By Gabriel Olawale
In Nigeria today, if your baby is born prematurely, that is, before 37 weeks of gestation, you are likely to greet the birth of the child with a mixture of joy and worry. You would be joyful that after waiting for days, weeks and months, your baby has finally arrived. But you would also be worried because the baby is born premature, especially as there are hardly any functional incubators available in most hospitals across the country.
Even where they are available, you would need to pay a huge sum for your baby to use one. This was the plight of James and Mopelola Opakunle, who lost their baby in the course of searching for a functional incubator in Lagos State. It all began when Mopelola was rushed to a private hospital following strange abdominal pains at 32 weeks of her pregnancy.
On getting to the hospital, and upon examination, it was discovered that she was actually in labour. The news almost caused panic for the couple, but the doctors assured them that all would be well, even though there were no available facilities to take care of such premature cases.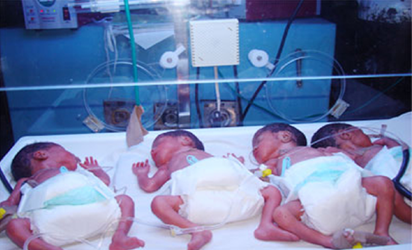 Necessary facilities
According to James: "When the doctor showed up, he checked on her and called me to his office to inform me that my child wanted to come out premature and they don't have the necessary facilities to admit the baby. But they could take the delivery. I was confused but told him to do his best."
At this point, Mopelola was taken to the delivery room and 20 minutes later, the doctor came out to announce the arrival of the baby and immediately referred them to Isolo General Hospital.
Unfortunately, there was no bed space at Isolo and they were again referred to the Lagos State University Teaching Hospital, LASUTH. Sadly, it was the same story: the beds were filled up and all the incubators were occupied.
At this point, the health of the baby was already deteriorating despite the wrapping and pampering. It was also obvious that it was becoming weak.
In a desperate move, James, who sighted one empty incubator from afar, made enquires about it, but was disappointed when the doctor told him that the machine was not functional, but would be repaired soon.
"The doctor advised us to try our luck at the Massey Street Children's Hospital in Lagos Island, saying the private hospitals in Ikeja would be too expensive because the use of their incubators cost N50,000 to N250,000 per day."
Regrettably, despite these spirited efforts, the Opakunles lost the battle to keep their baby alive. By the time they arrived Massey Hospital, the baby was stone cold.
They are not alone. Kemi Akinlabi, a 23 years old mother of two residing in Makoko, a slum area in Lagos Mainland, was rushed to Oye House(Traditional Birth Attendant, TBA) after she went into labour. On getting there, she was given a herbal concoction to drink, but as fate would have it, within a short period of time, the baby was delivered at 27 weeks.
Kemi was very scared on beholding the baby as she was very tiny. "I had no knowledge about premature babies; all my children used to be big; I didn't know why this one was small," she said.
Continuing, she said: "My husband was not around, he travelled to Benin Republic, and one of his younger brothers was with me. So Baba Oye who took the delivery sent him to look for Keke Maruwa(commercial tricycle) to transport me to the hospital where my baby would be cared for.
"We made trips to four hospitals in Lagos Mainland where they told us there were no incubators or bed and other facilities to render such service."
Kemi confessed that the private hospitals were off limits because of the exorbitant amount of money they were demanding. "Even all the money I am using to do my
'Egun Fish' business is not more than N25,000. So we decided to return home"
She recalled that it was the TBA who ran around making more enquiries regarding how they could care for the baby. "He came with one big empty carton and put some clothes inside, and placed the baby inside and a lantern beside the carton.
"Five hours later, I noticed she was not breathing again. So they just helped me to pack up the body. I have left that behind me and I am looking unto God for another baby that will stay," she told Vanguard Features, VF.
Last year, when Funmi Olatoye put to bed with a set of triplets in a private hospital in Idimu, Lagos, there were no incubators and the babies were referred to the LASUTH. But no incubator was available. Recounting the scenario, Funmi said: "It was in the middle of the night and we were asked to go to the Lagos University Teaching Hospital, Idi Araba, LUTH, but the story was the same as all the incubators were occupied. We were directed to a private hospital in Maryland, but where we were asked to deposit N1 million per baby.
Private hospitals
"I was shocked at the demand. Desperately, we made enquiries at other private hospitals, and it quickly dawned on us that the cost of using an incubator was beyond us. We had to put our hope in God," she lamented.
The above experiences are just a tip of the iceberg from the thousands of cases in hospitals across the country.
High premature births, few and costly incubators: A premature or preterm birth is a birth that takes place three weeks before the baby is due. A premature birth occurs before the start of the 37th week of pregnancy giving the baby less time to develop in the womb. Normally, a pregnancy usually lasts 40 weeks.
On its own, the incubator is a life saver for premature babies. Most premature babies need to be in an incubator or in a heated cot for two to four weeks to help them maintain their tempreature in a suitable Neonatal Intensive Care Unit, NICU, before reaching their original due date.
Sadly, in the country today, only a few health institutions, public and private, have functional incubators. Most lack the equipment.
According to the World Health organisation, WHO, an estimated 15 million babies are born too early every year out of which about one million die due to complications of preterm birth. Most survivors face a lifetime of learning disabilities and visual and hearing problems.
More than 60 percent of preterm births occur in Africa and South Asia. Nigeria has the third highest burden of premature babies in the world with 773, 600 annually behind China with 1,172, 300 and India with 3, 519, 100.
Hundreds of these newborns die daily while their parents are running from pillar to post looking for where to care for them.
International standard
Recommendations by the WHO on interventions to improve preterm birth outcomes, unstable newborns weighing 2000 g or less at birth, is that they should be cared for in a thermoneutral environment either under radiant warmers or in incubators.
VF findings reveal that for developing countries, the recommendation is for a minimum of 30 neonatal intensive care units, NICUs, per million population.
Available data show that Nigeria needs approximately 9,000 incubators to cater for its 773,600 premature babies born annually. It is regrettable that no government owned health institutions in the country can boast enough incubators while private hospitals with the equipment are too expensive.
The problem is not limited to obsolete incubators as the functionality of more current models is compromised due to inefficient supply chain of spare parts. Hospitals even resort to makeshift hot boxes and poorly serviced obsolete incubators that often lead to uncontrollable temperature and death of babies.
Incubators in the country
Investigations revealed that at the University of Benin Teaching Hospital, UBTH, Benin City, Edo State, there are 22 functional incubators of which 92 percent are recycled. But due to the high demand, there is usually a long queue of babies waiting to make use of them in which some die in the process.
A similar story prevails at every other public hospital visited by VF. The incubators are usually occupied and desperate parents are asked to go elsewhere with their babies.
Further investigations revealed that most centres ask for a deposit of N500,000 – N1,000,000 per baby. In a bid to check the shortage of incubators the UBA Foundation recently donated incubators to several Teaching Hospitals in the country.
Technical know-how
Consultant Gynaecologist, Dr. Idowu Samuel who gave more insight into the situation of things in Lagos, said thousands of babies are born premature annually in Lagos yet the number of incubators in state hospitals is less than 100, while LUTH, a federal health institution has about 40 incubators, the highest in the country.
"We need to remember that when a premature baby is in the incubator, it may be there for up to two months and no other baby can use that incubator. There are places that don't even have the equipment. The condition of any premature child born there can best be imagined.
"There are places with equipment, but lack the technical know-how on the part of the staff. In most hospitals, to get a paediatrician is very difficult, and neonatologist is now like a sub-specialties which is even more difficult to come by. Respiratory therapists are nonexistent as much as I know. Neonatal nurses are scarce and maybe less than 10; but there are much more paediatric nurses in the country.
"When the equipment breaks down the biomedical experts are not on ground to repair it; the biomedical expert in the country are not up to 40 that can repair the machine. The babies don't even have the basic environment which gives them a chance at survival.
"The neonatal service in Lagos State is free but there is limited bed space and then the private hospitals that can now help, the care is too expensive. All the parents could do is to watch their baby dying," he informed.
A Consultant Paediatrician, and Managing Director, Outreach Children's Hospital Festac Town, Lagos, Dr. Efunbo Dosekun, who shared her experience in caring for premature babies said 50 per cent of patients present very late. "We have so many cases of mothers running around in Keke Maruwa or taxi, with very blue babies that are born premature. On many occasions, the baby's body has already started rotting with low oxygen level; sometimes no glucose in their body system, and at times stop breathing. When the baby comes in a bad state, at that time there is little to what help we can render," he said.
Survival tips for preterm babies: Dr. Ikechukwu Okonkwo, a Paediatrician at UBTH, said that there are three basic survival tips for preterm babies: breathing, warmth and feeding. Breath is life. They can have a problem with breathing at birth because of immature lungs and lack of a chemical that keeps their lungs open called surfactant. Without help and or surfactant these babies will not survive as they struggle to breathe and subsequently stop breathing.
"Any delivery in a centre where surfactant is unavailable or the device to help breathe is lacking is a disaster waiting to happen. This is a major killer of our babies. So the place of birth is key, the skills of the attending personnel and the devices availability also matter. Taking delivery without having this in place is criminal and the cause of newborn wastage in Nigeria," he said
Vox pop (Nigerians react)
A technician at Orile-Iganmu in Lagos, who simply identified himself as Baba Awe, said that if he have two children already and the third child comes prematurely, he won't over stress himself. "I can't use a huge amount of money to settle the bill of one premature baby when the ones at home are yet to find something to eat," he said.
Mrs. Nwakaego Ezeh said that she can obtain loan to care for the baby if it is a male. "I already have four female children. My husband and I are desperately looking for a male child because the pressure from my husband side to marry another wife that will give him a male child is becoming unbearable," she said.
A student of Ahmadu Bello University, Zaria, Aisha Musa, would rather abandon the baby with caregivers. "I will take the baby to a traditional birth attendant to help me look after it because I can't be in the house and watch helplessly while the baby suffers or even dies," she said.
Causes of premature birth: A Consultant Gynaecologist, Dr. Usman Dino, warns that overstretching of the womb that occurs in the case of twin or triple pregnancies may increase the risk of premature labour, while mothers who are younger than 20 or older than 35 years old risk having premature babies.
"If a baby is not thriving in the womb; for example, if the placental blood supply is impaired or there is evidence of growth retardation, it can lead to premature birth.
Also a mother who smokes, abuses drugs or eats poor diets that lead to underweight, may be unable to carry a pregnancy to term," he informed.
Dr. Tolulope Abiodun says that vaginal infections such as gonorrhoea, chlamydia, trichomonas, cervical infection (such as group B streptococci), syphilis, bladder infections, bacterial vaginosis, etc., can trigger premature labour.
How to prevent premature birth: "We are encouraging young girls to live healthy lives, not to smoke but to take folic acid once you are preparing to be a mother. There is less tendency to have spina bifida, cleft lip and hydrocephalus if she eats well and takes multivitamins so as not to be malnourished.
When you get pregnant, eat nutritious food, go for antenatal care so that if there are abnormal maternal conditions, they can be quickly detected. These include hypertension in pregnancy, diabetes in pregnancy, malaria in pregnancy, among others.
Essentially, a pregnant woman must attend a minimum of five antenatal care services. They must have their tetanus toxoid injections, be given iron medicine and folic acid and Intermittent Preventive Medicine, IPT, as malaria prophylaxis. Women who are pregnant should not work for too long hours or stand up for long hours, do not get involved in violent that can trigger trauma and terminate pregnancy," she submitted.
Way forward
Consultant Paediatric Surgeon, Dr. Malomo Ajulo, explained that in case of non-availability of incubators, Kangaro Care could be of help but the survival rate in our environment is minimal. "Kangaroo mother care involves a mother holding her child close to her breast – skin to skin – while covering the baby's head and feet to prevent heat loss.
The method enables bonding between mother and child, creates warmth for the baby, and allowes it suckle the mother's breast," he stated.
She noted that backing a baby skin to skin does not provide the same effect as the kangaroo care as the baby would not have access to the mother's breasts.
Embrace incubator: Compared to the $20,000 price of a traditional incubator, the Embrace incubator only costs $25. The product uses an innovative wax incorporated in a sleeping bag to regulate a baby's temperature.
It stays warm without electricity, has no moving parts, is portable and is safe and intuitive to use. Regrettably, Nigerians are not familiar with this novel incubator.