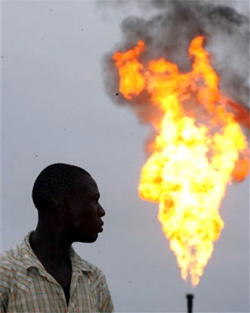 Gas flaring
By Jimitota Onoyume & Eruesegbefe God'ray
PORT HARCOURT—Renown environmentalist, Mr Nnimmo Bassey, has said that the penalty for gas flaring in the country was too low to stop defaulting companies from polluting the environment in the Niger Delta.
Nnimmo, Director, Health of Mother Earth Foundation spoke, yesterday in Port Harcourt, Rivers State at a two day training programme for members of the Rivers State House of Assembly on the Role of Legislators on Natural Resources Governance , Business and Human Rights organised by Centre for Human Rights and the Environment in the Niger Delta, CEHRD.
He said it was pathetic that about $1.1 bn flare penalties were also not collected annually, money he said could have been used to redress pollution problems in the Niger Delta region
"The penalty for gas flaring remains low and does not offer real incentives to defaulting oil companies to stop the practice. Also, about $1.1 bn gas flare penalties are reportedly not collected annually. This is more than the amount required to commence the full implementation of the United Nations Environment Programme,UNEP, report on the clean up of Ogoni environment. It simply goes up in smoke annually by way of uncollected fines for gas flaring," he said.
He called for serious efforts  to end gas flaring in the region.
He urged lawmakers to call for re-modelling of the new Petroleum Industry Bill, PIB, after the Minerals and Mining Act. "Or indeed, a wholesale adoption of the environmental and communities provisions in the Minerals Act."
He charged lawmakers to come up with laws to protect the environment from pollution , adding that they should actively campaign for implementation of the laws.
Chief Whip of the Rivers State House of Assembly, Evans Bipi lauded organisers of the training programme, saying it had further deepened their knowledge on their roles as lawmakers in the state.