By Luka Binniyat
It was a Sunday morning, and  most residents of    Kwoi, Samba Daji, and the ancient, archeological community of Nok,    in Jaba Local Government Area, LGA, of Kaduna State, were in Churches observing Sunday devotions. Then without warning, the ground started shaking, rattling and rocking the earth, many recalled to Saturday Vanguard.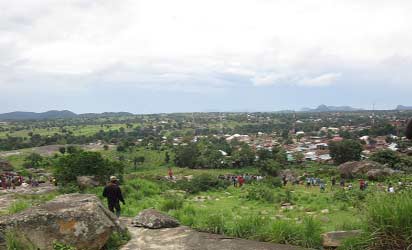 Those who were not in churches, said the ground vibrated viciously like taking a bumpy ride in a rickety truck over rocks and ridges. Those who spoke to our reporter in Kwoi, agreed on the timing of the first tremor as 10:30am last Sunday.
Kwoi, a picturesque    old, mid-size town, 240km from Kaduna town, is    strewn with rocky outcrops and forest-lined perennial tress. The town is bounded by even more imposing dark rocky hills, and is famous for the production of a special specie of ginger sought world wide. It is the home of the Ham people, also known for their famous International Ham Day Festival.
"It was as if the car was crazy. It was vibrating so seriously I had to stop and come out. Then I felt the shaking underneath me. Everything around me was shaking. Trees, houses, Motorcycles that were parked were knocked off," said Auta Mathew, a civil servant and native of Kwoi.
"I was so afraid. Then within minutes it was over. People trooped out and soon the street was filled people. You could feel the anxiety and fear," he said. "You get the idea of the last day, the way the Bible said the world would tremor." Two hours later, another occurred, instilling awe and confusion in Kwoi and neighboring communities.
As nightfall came, and  people slept with their eyes open, a major vibration quaked Kwoi again. Then another, and another, and by 4:am on Monday morning,    frightened    residents had recorded 24 occurrences. Homes made up of clay blocks were in ruins. Many structures that survived had cracks on their worlds, challenging their foundation. The tremor opened cracks on the major expressway leading outside the town.
Non-Ham residents began to leave, and by Wednesday, all had fled the town. The near doomsday experience created all kinds of speculations and theories from communities who have never experienced the strange phenomenon. Most natives would have nothing to do with scientific explanation of the situation. This is due to an incident that occurred in the Kwoi town three days before the tremor, they would say.
According to the story, there was a tree said to be about 500 years old along the road leading to Sabzoro village, which served both as a totem and shrine for a cult made up of only women,  Satirr Ham. But the tree was on a path where a High Tension Wire would pass, and had to be brought down. It was said that members of  Satirr Ham  vehemently objected the idea and warned of dire consequences should the three be felled.
But, on intervention of the traditional ruler of Kwoi, Kpop Ham, Dr. Danladi Solomon Maude, the women reluctantly agreed and listed the sacrificial items to be offered the resident gods of the tree. According to Saturday Vanguard source, it was agreed that the trunk of the    three would not be felled. That only its major branches would be chopped off to allow for the wires to pass.
But, as it turned out, the tree was felled, branches, trunk and all. So when the earth started to quake three days after, accusing fingers pointed at the Chief as an accomplice  to the  spiting of the gods who responded with ferocity and created the trepidation that came with the tremor. On Monday morning, hundreds of youths thronged the palace of the Chief, insisting he must get a solution to the horrifying incidences, as more villages reported quaking of their soils.
It took intervention of the police, the LGA Chairman and community leaders to pacify the edgy youths. But not many looked at the issue that way. "It is an expression of serious illiteracy mixed with extreme ignorance of what are the likely causes of earth tremors," Mrs Rikatu Joseph, a geologist and business woman, also of Ham descent, who runs Aquifers Management Consult, Kaduna, told our reporter.
"No amount of a god can trigger an earth tremor. This is pure geo-physics and seismology and it is not easy to explain to people who are not interested on how our earth crust is structured by the Almighty God, but would dwell on backwardness to suit their superstitious fixated minds," she said irritably.
On his part, Mr. Andrew Umaru Austine, a geographer and lecturer with Federal School of Forestry, Jos  explained: "Relax, there is no cause for alarm. But the terrifying truth is that seismic stations worldwide are recording strong earthquakes on daily basis.
"Every month the earth is shaken by approximately 80,000 earthquakes at a rate of two earthquakes in a minute, meaning that there is an earthquake taking place right now 'Not in Kwoi'    but somewhere in the world.
"Recently, seismologist discovered and, are studying a new type of seismic signal called tectonic tremor which is less hazardous than an earthquake and occurs at greater depths. "This is what Kwoi and its environs have likely experienced.
"Deep tectonic tremor is relatively a weak shaking of the earth surface that lasts for  minutes and could be as long as weeks and is experienced mostly in subduction zones or lines of faults.
"Residents of Kwoi should take precaution by staying clear tension lines and cracks already created by the tremor. "Now is the time to test the genuineness of our so called survey satellite which was launched during the government of Obasonjo," he said.