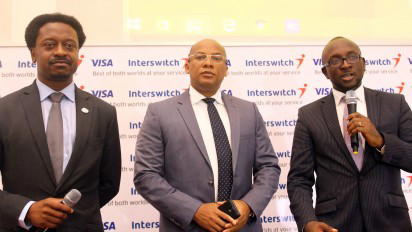 L-R, Country Director, Visa West Africa, Ade Ashaye, GMD, Interswitch, Mitchell Elegbe and DCEO, Switching and Processing, Interswitch
…Rolls-out Quickteller Paypoint to promote financial inclusion
Interswitch, Africa's leading Digital Payments and Commerce Company has formally announced the rollout of its Agent Network Business 'Quickteller Paypoint'.
Interswitch Financial Inclusion Services (IFIS), trading as Quickteller Paypoint, has a mandate to build an extensive network of agents across Nigeria. The objective includes improving access to financial services for the unbanked and under-banked Nigerians, by bringing a rich bouquet of these services closer to them.
Commenting on this initiative, Divisional CEO, IFIS, Mike Ogbalu said;
"It is common knowledge that agency banking in Nigeria is currently behind potential. Opportunities for the growth of financial services are in abundance and interestingly, our population remains an untapped strength, Interswitch is on a mission to positively impact the Nigerian economy with Quickteller Paypoint."
"Beyond bridging the existing gaps in the adoption and availability of financial services for Nigeria's unbanked and under-banked population, Quickteller Paypoint will be creating sources of consistent and additional income for agents and invariably help create levels of sustenance and economic balance for their families.
This will be achieved with the creation of a vast network of growing businesses to act as agents for the many e-payment services Quickteller offers. Business owners who desire an extra source of income, NYSC members, job seekers, and anyone who is seeking additional income, can all sign up to become a Paypoint agent."
With currently over 500 – and growing – active agents in Lagos, Paypoint will be expanding to Ibadan, Port Harcourt, Abuja, Kano, and other cities, within the next few months.
Poised to unlock the value of agency banking and financial inclusion in Nigeria, the target is to grow a network of agents to 150,000 by 2020 and increase the availability of digital financial services in financially-excluded locations across the country from 44% to over 70% in the next five years.
We can recall that in December 2015 at the last Committee Of E-Business Heads Conference, which held in Uyo, IFIS was introduced to stakeholders in the e-business industry, and Head of e-Banking, Fidelity Bank, Adedeji Olowe had this to say;
"If there is a Nigerian organization capable of taking this on, it's Interswitch. Just like they have been able to do with switching and linking the banks, I expect them to be able to make this work."
Modelled to empower thousands of Nigerians, the initiative, which is open to all, will provide a source of income for the unemployed and an additional source of income for the employed.