Nigeria U23 striker, Oghenekaro Etebo is dreaming big and has ambition to win gold just like in 1996 when Nigeria ruled the Olympics football event in Atlanta, USA.
The former Warri Wolves player is already leading on the goals chart with four strike in one game. He became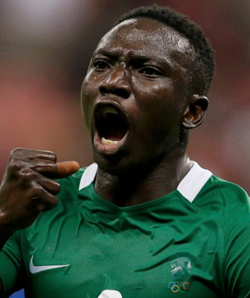 the second man to achieve that feat, which was accomplished by Germany's Bernd Nickel at the Munich Olympics in 1972. Etebo stated that the team is growing in confidence and their ambition is to clinch the gold in Rio.
"I believe we're going to do it. I believe we're going to get it right," Etebo told www.fifa.com.
Speaking on his goals credentials in the Olympics so far, Etebo said he was happy, but the cardinal objective of the team is to win their matches.
"If I had scored but we lost, it's not going to be too fantastic. I'm happy we're topping the group, and I'm really happy about the goals.
"I didn't expect it at all. I'm not going for personal glory but team glory which to me means winning gold. Without the gold, it's going to be painful because achieving that is important for me, for Nigerians and for my teammates," he said.
"I really appreciate them a lot. The way we are going, I believe we are going to get it right.
"As long as we're disciplined, we're going to take advice from the coach, to listen to his instructions that he has given for every game," he said.