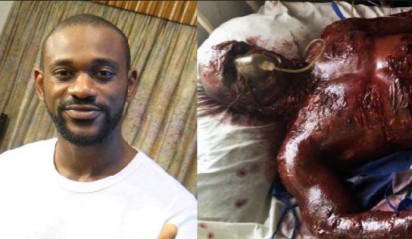 By Rotimi Agbana
Nollywood actor, Ani Iyoho, who was reported to have sustained serious fire injuries in a fire stunt said to have gone bad, on the set of a movie shoot, was confirmed healthy and unscathed by the movie director.
The actor, who was said to have been badly burnt when the fire stunt got out of control, was contracted to do the fire stunt which went well without a fire outbreak as earlier reported.
Addressing the media on the sad misunderstanding the video which has gone viral on the internet may have caused, the movie director, Stanley Ohikhuare set the record straight.
"Ani Iyoho was contacted to act in the movie and do the stunts. He signed a release form after confirming that every safety measure was in place.
Measures include the provision of five working fire extinguishers, a water source which in this case was a stream nearby from where we pumped water, a fire blanket and absolute professional preparation for the stunt, using the recommended media.
We set him on fire following strict professional guidelines" he stated. He went further to say "But contrary to several speculations that the he got burnt and that the stunt was a failure, we indeed succeeded at pulling it off and Ani Iyoho is here with us today, from very healthy.
He was willingly in on this from the beginning. What we did was to activate that which is professionally referred to as Media Influence."
However, the actor recently stated that the scene wasn't a publicity stunt but a movie scene that went very well.
He posted a statement on his Instagram saying:
'To my friends
For most of you who have ever commented or sent a chat to me you know I do all I can to respond to them all. So it hurt me deeply to keep you in silence and in the dark during this period. I couldn't avoid it. The calls were maddening. My phone had to be turned off till the matter was resolved in public where it started.
It worried the production that anything I might say as an individual may be misinterpreted further worsening the situation. I'm truly sorry beyond words for the emotional stress and inconvenience this might have caused you. It wasn't a publicity stunt for me as some might still want to have you believe. It was a huge misunderstanding, misrepresentation and misinterpretation of events of that day and it took a toll on me in ways I cannot explain
I am however extremely humbled at the love, care and support I got from you during this period. Words fail me. I am indebted to you. Thanks for being there for me and my family. God bless you and yours. Amen
I am well. It was a movie fire scene that went well.'
Ani Iyoho.