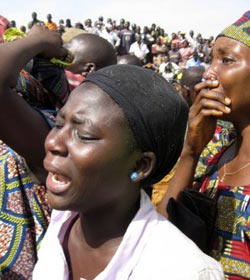 By Umar Yusuf & Luka Binniyat
KADUNA—No fewer than 26 people have been reportedly killed as gunmen suspected to be herdsmen allegedly invaded communities in Adamawa and Kaduna states, also injuring scores, while many were declared missing.
While 15 persons were confirmed killed during the attack on Kodomun village and other adjourning villages in Demsa Local Government Area of Adamawa State, 11 were slaughtered  in three villages around Godogo town, in Jema'a Local Government Area of Kaduna State, 250km South of Kaduna town.
At press time, yesterday, Vanguard gathered from locals at Kodomun village and other adjourning villages that the figure might be much higher as scores of others were still missing in the hinterland.
It was learned that fighting is still raging in  remote parts of the communities as the suspected herdsmen operate from their hideouts at will and attack defenceless farmers.
Adamawa State Deputy Governor, Mr. Martins Babale; the Brigade Commander of the 23rd Armored Brigade, Yola, Brigadier General Benson Akiroluyo, and Adamawa State Commissioner of Police, Mohammed Ghazzali,  yesterday,  visited the area for an on-the-spot assessment of the situation.
The trio had earlier visited the paramount ruler of Batta, Hamman Batta, Chief Alhamdu Teneke, to commiserate with him over the incidents. Speaking to newsmen at the palace of the Hamman Batta, the member representing Demsa Constituency in Adamawa State House of Assembly, Mr. Lumsan Dilli, disclosed that the causalty figures given by the villagers were higher than that.
According to him, scores of other people have been declared missing and most of them are presumed dead.
The lawmaker added that the migrating herdsmen continued to kill, maim and burn villages as they moved towards their destinations, disclosing that dead bodies unaccounted for were more than the ones recovered so far.
Dilli called for serious security intervention to prevent the situation from degenerating to full blown war as the affected villagers are mobilizing for reprisal attack.
Also speaking to newsmen, chairman of Demsa Local Government Council, Mrs. Wale Fwa, disclosed that a newly elected councillor for the area, Mr. Hani Habila, was among victims of the skirmishes, adding that over 40,000 people had been rendered homeless by the attack.
The attack in Kaduna
In a related development, three villages around Godogo town, in Jema'a Local Government Area of Kaduna State, were invaded by gunmen suspected to be herdsmen, leaving 11 dead and injuring scores and torching parts of the village.
A  source from the village informed Vanguard on phone that six men and three women were killed at Gada Biyu, while two men were killed at Akwa'a, with shooting still on going at Anguwan Anjo at press time.
The source said:  "Herdsmen invaded Gada Biyu, 2km from Godogodo early Monday morning, started shooting and burning down houses. People fled in different directions. However, the Police were quick to arrive and the invaders fled into the bushes.
"When they left, four corpses were discovered. Today (yesterday), after combing the bushes, five more dead bodies were found, among them were three women.
"When the killers escaped from Gada Biyu, they resurfaced at Akua'a, yesterday, morning and killed two people. But they did not burn any house there. The Police arrived on time again, and they ran away.
"But, yesterday afternoon, they appeared at Anguwan Anjo and started shooting, but by this time people had fled the village, and the police also arrived promptly.
"However, about an hour ago, the police, who have not had any rest, went to get some food in town. Now, I am sure if you listen very well you will hear the sound of heavy gun fire. They are shooting from afar.
"We believe that the motive of the attackers is to displace us and take over our lands. In Anguwan Anjo, our surprise is that the Hausa settlers there did not run away. There is a river there full of fish and we fish with them.
"Also, since we heard that our villages have become part of Sanga Grazing Reserves, we have not known peace."
But, Kaduna State Police Command Spokesman, ASP Aliyu Usman, said he was yet to get details of the attack, but assured that everything had been brought under control with the deployment of a contingent of Operation Yaki on ground at the embattled villages.
"I do not have details, but I will brief you later," he said.