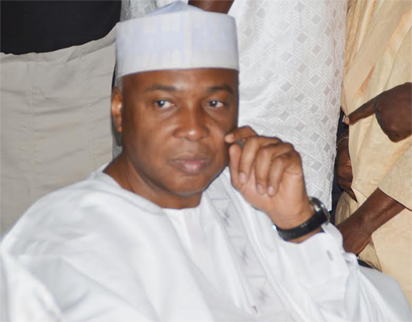 Saraki
Ilorin – Gov. Abdulfatah Ahmed of Kwara and Senate president, Dr Bukola Saraki as well as top government functionaries were conspicuously absent at the Eid-el-Fitri prayers on Wednesday in Ilorin.
The governor and Saraki were usually present at the Eid praying ground during Sallah celebrations.
No reason was given for their absence although a top Government House source told NAN that the governor prayed at a private mosque in the state capital.
NAN also reports that the duo usually paid the traditional homage to the Emir, Alhaji Sulu Gambari, immediately after the Eid prayers.
They were, however, absent for the traditional homage and the accompanying Durbar which often followed the Eid prayers.
Ahmed had last year stayed away from the Eid praying ground while those who attended with the senate president were pelted with stones and sachet water by angry workers whose salaries were not paid.
NAN also reports that there was a fracas at the palace of the emir who was hosting this year's traditional " night of prayers'' on Sunday.
A palace source confided in NAN that mid way into the programme, a cleric rose to defend government's inability to pay workers' salaries and this drew the anger of the people.
The source told NAN that the crowd went berserk, disconnecting the electricity supply to the venue and freely throwing chairs at dignitaries at the event.
The Secretary of Sheikh Alimi Foundation, Abdulazeez Arowona, in a statement confirmed there was fracas at the palace during the programme.