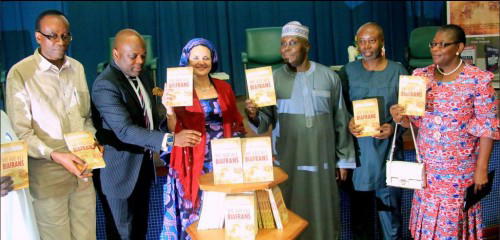 R-L: Former Education Minister, Dr. Oby Ezekwesili; Author, Chido Onumah; former Vice President, Atiku Abubakar, and others at the launch of Onumah's book, "We Are All Biafrans?, in Abuja, on Tuesday, May 31, 2016.
By Omeiza Ajayi
ABUJA— Former Vice President, Atiku Abubakar has called for a restructuring of the Nigerian federation to cater for the aspirations of its component units.
According to him, such restructuring is the only answer to the current agitation for a Biafra Republic.
The ex-vice president spoke,  yesterday,  in Abuja, at the unveiling of a book, 'We are all Biafrans,' written by a journalist, Chido Onumah.
"When I was invited to chair this occasion, I immediately understood that the title of the book is a metaphor for the legitimate feelings of marginalization by diverse segments of Nigerians that cut across the country.
"Agitations by many right thinking Nigerians call for a restructuring and renewal of our federation to make it less centralized, less suffocating and less dictatorial in the affairs of our country's constituent units and localities.
"As some of you may know, I have for a long time advocated the need to restructure our federation. Our current structure and the practices have been a major impediment to the economic and political development of our country.
"In short, it has not served Nigeria well, and at the risk of reproach it has not served my part of the country, the North, well. The call for restructuring is even more relevant today in light of the governance and economic challenges facing us.   And the rising tide of agitations, some militant and violent, require a reset in our relationships as a united nation.
"Some may say that we are saddled with more urgent challenges, including rebuilding our battered economy, creating jobs, fighting corruption and securing our people from terrorism and other forms of serious crimes.
"I believe, however, that addressing the flaws in our federation will help us address some of those very economic and security challenges facing this country.
"Nigeria must remain a united country.   Our potentials are enormous. But I also believe that a united country, which I think most Nigerians desire, should never be taken for granted or taken as evidence that Nigerians are content with the current structure of the federation.
"Making that mistake might set us on the path of losing the country we love or, as Chido Onumah puts it, result in our country sleepwalking to disaster," he said.