•Caretaker Committee accuses Igaiwey group of breaching truce terms
By Emeka Mamah
The fragile peace in  the umbrella union of all Igbo cultural organisations, the Ohanaeze Ndigbo, following the reconciliation brokered between the two factions of the association by Governor Rochas Okorocha of Imo State, has collapsed.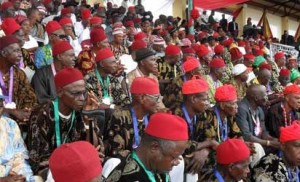 Some stakeholders in Ohanaeze, who made this known, accused the National Chairman of Ohanaeze, Chief Gary Enwo Igaiwey, of frustrating efforts to ensure unity in the association and asked the governors of South-East states to appoint members that would support the Chief Ralph Obioha- led Ohanaeze Caretaker Committee to resolve the raging dispute.
In a statement by members of Ohanaeze, including Senator Offia Nwali, Chief Ralph Obioha, Chief Kate Onwe, Chief Oyibo Chukwu, Chief Ralph Okafor and Chief Leon Mezue, they said that "the Igariwey group had consistently, in various fora convened for the purpose, obstructed and impeded the work of the 17- member constitution review/electoral committee established and headed by Chief Ralph Obioha to review and harmonise Ohanaeze Ndigbo constitution, by insisting on no-go areas which included issue of tenure of office of executive committees and the mandate to the committee to conduct elections into the Ohanaeze executive committees."
The statement  went on: "At the meeting of the Ohanaeze Caretaker Committee, held on Friday, May 6, 2016 at Enugu, this body of eminent Igbo leaders considered the peace efforts to resolve the intractable leadership problems in Ohanaeze, engendered by the tenure extension imbroglio and the question of leadership succession within Ohanaeze Ndigbo, and the way forward; the meeting also ex-rayed the negotiated settlement reached by the Ohanaeze Caretaker  Committee, led by Chief Ralph Obioha, and the Ohanaeze group, led by Chief Gary Enwo Igariwey, by the initiative of His Excellency, Owelle Rochas Okorocha, governor of Imo State…
"The meeting thereafter resolved as follows: That the lgariwey group should, in the interest of genuine peace in Ohanaeze and Igbo strategic and main stream interests, return to all the agreed terms of the peace settlement and commit itself to their full implementations.
"The governors of the South-East  should, as a matter of urgency, contribute their own members to the constitution review/electoral committee which is under the headship of Chief Ralph Obioha and inaugurate it to discharge its mandate.
"The meeting finally urges a principled implementation of all the terms of the peace agreement.
"That in view of the urgent necessity and compelling need for Chief Ralph Obioha, the leader of the Ohanaeze Caretaker  Committee to travel overseas, the meeting appointed Senator (Dr) Offia Nwali to act in his stead and deputize for him pending his return to the country."