By Daud Olatunji
ABEOKUTA – Ogun State governor, Senator Ibikunle Amosun, Sunday, denied running government of nepotism, saying he could not provide job for his family members because they did not qualify .
Amosun said except through miracle, he could not satisfy all the yearnings of the people of the state due to the paucity of fund.
The governor stated these Sunday while featuring at the state Civil Society conversation with governor organised by the Committee for the Defence of Human Rights held in Abeokuta.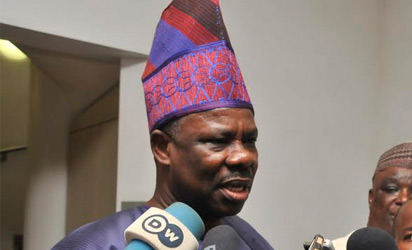 While fielding questions from the panelists on the perception of the public that his government is favouring his cronies and family members, Amosun said he has never intervened in the process of the employment in the state.
He said as governor of the state he could not secure job for his nephew because the process did not take him.
He however, said he had to stop the latest process because it was compromised by the top officials in charge .
While responding to the state of school in the state, Amosun said he has sent N20 billion on subvention for state owned tertiary institutions.
The governor while explaining the reasons why some projets he embarked on have stopped, said, he pays N9.1 billion every months while the federal allocation continue dwindling as low as N700 million.
The governor however, rules out setting a probe panel on the recent collapse of government building in Itoku market, saying, his government has built over 30 buildings that are standing strong except the recent incident.
Amosun said he had to take the full responsibility of the collapse because whether good or bad he is in charge .
While reacting to the media report on the government's failure to visit the family of the victim of the collapse building, Amosun said more than seven persons have come to him and claimed to be the victim's dependants.
He said his government would compensate the deceased family and ensure the deceased children are taken care of.
Earlier, the state Chairman of CDHR, Comrade Yinka Folarin who commended the State Government on his giant stride advised he government to embark on rural development infrastructural projects.
Folarin in his speech said the body's resolution si that, the state government should appoint a commissioner for women affairs or special Adviser on women affairs.
The body also urged the state government to empower the Vigilante Service of Ogun state and canvass for adequate support from corporate bodies.