By Emem Idio
YENAGOA-DEPUTY Governor of Bayelsa State, Rear Admiral Gboribiogha John-Jonah (Retd), on Tuesday, decried the activities of militants in the creeks, lamenting that the blowing up of oil installations in the state has adversely affected the revenues fortunes accrued to the state from the Federation Account.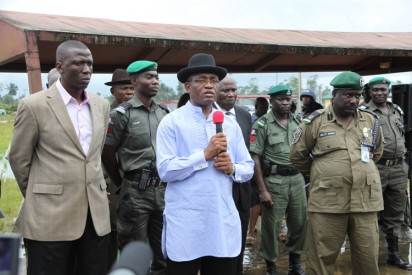 Jonah, who disclosed this during the monthly media transparency briefing in Yenagoa, therefore, appealed to youths in the state and Niger Delta to desist from the destructive acts, as its effect is devastating to the ecology and finances of the states in the region, stressing that the blowing of the Nembe Creek 1, 2, 3 and Trans-Niger located in the state has affected the production quota of the state.
He said: "A lot of destruction has happened; therefore we are not expecting any improvement due to the current situation in the Niger Delta. The future is not that bright even if points indicators points towards that direction. Already, the Trans Niger trunk line and Nembe Creek 1,2and 3, trunk line located in Bayelsa state which link the Bonny Terminal have been affected. We are appealing to our brothers and sisters that in addition to the ecology, the damage is quite devastating to us as a state."
The deputy governor who was flanked by the Secretary to the State Government, SSG, Serena Dokubo-Spiff; state Head of Service, Dr Peter Singabele; Chief Economic Adviser, Mr. Duate Iyabi and members of the State Executive Council, declared a balance of N1.384 billion, after all statutory deductions for the month of March, however, said in spite of the huge shortfall, the state government would honour its commitment of payment of fifty-percent salaries to civil servants in the state.