By Ebele Orakpo
SEEMS we are fully back to the military era," said Iyke in the CMS-bound commuter bus.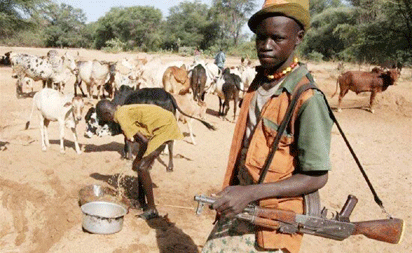 "Why do you say that? This is pure democracy," said Tony. "Democracy ko, democracy ni. This is militocracy, period! Is this headline 'Buhari orders Military to crush new Niger-Delta militant group, the language of democracy?" asked Iyke, referring to a statement credited to President Buhari. How can a democratically elected president use such harsh words? What are you crushing, inanimate objects or animals?"
Replied Mike: "He can use whatever language he deems fit, after all, he is first and foremost a soldier. My grouse with him is that he has not used that tone of voice or such harsh words against the murderous Fulani herdsmen. Left to me, it is better to blow up pipelines and public institutions than attack poor innocent citizens, kill them, burn down their homes and take over the place."
"This menace of the Fulani militia seems to me like an agenda being carried out. From what I am seeing and their mode of operation, if the indigenes steal their cows, why not report to the authorities and make the culprits pay? Why kill the people, burn down their villages and take over? Can anyone explain that? I am aware that in one of the states, herdsmen are made to pay farmers whenever their animals destroy farmlands," said Susan.
"It's so sad. Nigeria is going through turbulent times. Trouble everywhere! I pray that God gives this government the wisdom to handle the situation," said Tony.
Human rights activists
Said Susan: "Unfortunately, government is employing force to tackle the issue but that is not the answer because instead of solving the problem, it will escalate it. They should look into the complaints of the people. A hungry man is an angry man. So many people are hungry today and therefore angry so government should tread cautiously."
"But where are all those human rights activists in Nigeria who were so vocal during the campaigns? It seems the cat has got hold of their tongues! No one is talking again," said Tony. "Ah, you want the Department of State Security to go after them? I think they are afraid for their lives," said Mike.
"What is wrong with the militants anyway? They are further destroying their already polluted land. There are other ways of drawing attention to their plight," said Sussan. "Government only takes action when it affects them directly. So the Fulani militia menace does not affect them but the pipeline bombing does, hence the quick reaction. Remember the National Assembly passed a law that hands down death sentence on kidnappers just because one of them was kidnapped. She even said she suffered so much as they carried her on okada because she had never ridden on an okada in her life!" said Iyke.
"Yes, PMB spoke up immediately because that one touches his pocket. He needs the money from the oil to carry out the business of governance so anything or anyone that tampers with that will see the tiger in the guy," said Mike.
"You are right. But shouldn't the innocent souls lost in Agatu, Enugu, Taraba and other places touch him more than the pipelines? Where is our humanity? After all, the rural people are not benefiting anything from the state, so why shouldn't the state let them be? " asked Susan.