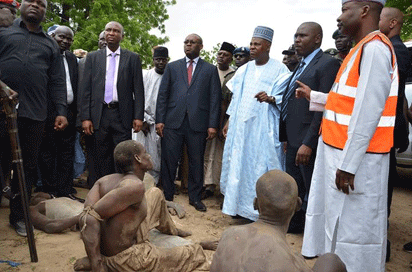 Boko HAram militants arrested and paraded by Civilian JTF in Konduga during Gov. Shettima's visit
The Director General of National Emergency Management Agency, NEMA, Alhaji Mohammed Sidi, on Monday, said that over 800 repentant Boko Haram insurgents are currently undergoing skills acquisition training.
The NEMA boss who stated this at a two-day Public Hearing on the North East Development Commission Bill, 2016 said that the skill acquisition exercise is being handled by the military and monitored by the Office of the Chief of Defence Staff (CDS).
Although Sidi did not say where the exercise is taking place.
Alhaji Sidi was responding to the comment of a former member of the House of Representatives, Hon. Kaka Kyari Gujbawu, who canvassed general amnesty for returning Boko Haram insurgents.
Sidi said, "It is not true that the Federal Government has no amnesty package. There is what is called safe corridor. I do know that 800 plus (Boko Haram) have been registered. I don't want to be specific. They have exited Boko Haram through the window. They are currently receiving various skill acquisition training. The military is handling it. It is being monitored by the Office of the CDS."
Meanwhile, Hon. Gujbawu had in his presentation at the event said that the NEDC Bill should include amnesty for repentant Boko Haram insurgents because most of the insurgents were conscripted and forced to fight along Boko Haram members.
He said that a second life should be given to the repentant insurgents.
He also said that provision should be made for the Civilian Joint Task Force members who he said were used and dumped.
Gujbawu said that some form of integration in the line of employment should be evolved for the Civilian JTF members who helped tremendously to push out Boko Haram insurgents from Maidugiri.
Chairman, Joint Committee on the North East Development Commission Bill, Senator Abdul-Aziz Murtala Nyako, assured that his committee would consider the amnesty aspect "critically" as well as discuss with the Executive on the issue.
Nyako said that it is only after such critical consideration that the committee would determine whether amnesty would party of the Bill.
He acknowledged the motion against the insurgency that was moved by Senator Thompson Sekibo and 40 others as part of the off-shoot of the Bill.
He said that the NEDC Bill was sponsored by 18 Senators of the North East zone across party lines led by the Senate Leader, Senator Mohammad Ali Ndume.