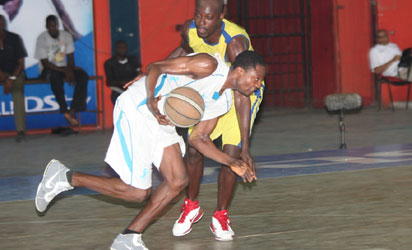 Action from DStv Basketball league.
As part of efforts to adequately prepare for the 2016 Rio Olympics, the Nigeria Basket Ball Federation (NBBF) has released the list of 27 platers invited to camp ahead of the championship.
President of the federation, Tijjani Umar told journalists yesterday in Abuja that the players who are mainly plying their trade in Europe and America were shortlisted after they gave their consent that they will like to represent their fatherland.
However, Umar disclosed that the list ought to have been 28 but for the reluctance of Victor Oladipo who is said to have also been approached by the USA to make up his mind.
Top on the list is Ikechukwu Diogu, Al-Farouk Aminu, Olumide Oyedeji and Usman Abubakar who were all part of the team that last year won the AfroBasket which also qualified the team for the global fiesta.
According to the tentative training schedule of the NBBF, the Head Coach and technical staff will carry out a visitation of the players in their various teams between June 4th and 25th.
Also on June 27th, the team will open camp in Los Angeles or Bakersfield while the NBA players will join camp on July 1st.
On July 5 the team will fly to China where it is expected to participate in the Stankovic Cup between the 6th and 10th of the month.
The busy schedule will equally see the contingent to fly either to Las Vegas in the USA or Melbourne in Australia on July 11.
According to the NBBF boss, if the team goes to Melbourne, it will play another round of friendly games against the Australian national team between July 13 and 15. On July 18, the team will play Olympics group rivals Argentina while Brazil will come calling on July 20.
The preparation also include a return to Los Angeles on July 21 for a game against China on 22 and a journey to Houston on 23 where it will clash with the high flying US team on August 1. The team will hit Brazil for the Olympics on August 2.