By Edwin Eze
Imagine this! It takes you about eight or nine years to pursue an academic course. On the year of graduation, you are told to wait while your mates graduate. The waiting game continues for 19 years and you are still patient, waiting for that final exercise to accord you the full regalia of your calling. Such patience is phenomenal and may only be derived from spiritual strength. If you add the number of years in school, then you are talking about 28 years!
Well, it happened to Lambert Ejionume. Interestingly, his was more of spiritual pursuit than academic, although he married the two and, through the grace of God, conquered all adversities to achieve his priesthood. And today he has a record of being the longest serving deacon of the Catholic Church in recent times.
Ordination that was not
Lambert Ejionume was ordained a deacon in 1996 but on the eve of his ordination as reverend father in 1997, the then Catholic Bishop of Nsukka Diocese asked him to wait so that the local church could observe him further. The waiting continued for years. Many in his shoes would have left to pursue another course of life. Not Lambert. The waiting lasted 19 years. He was undaunted. He remained focused, prayerful and faithful with a seeming Abrahamic patience.
19 years after
But today, you may no longer address him as Lambert. He is Reverend Father Lambert Ejionume. His people are singing songs of praise to God. It was a gala affair penultimate Sunday when he celebrated his first mass in his home town, Ukehe after his ordination as a reverend father on April 3, 2016 by "Father Bishop" of Nsukka Diocese, Most Rev Professor Godfrey Igwebuike Onah at St Theresa's Cathedral, Nsukka.
For 19 years he was undeterred, resolute and steadfast in the Lord's vineyard. He became an ardent adherent of the Adoration Ministry, Enugu, established by Reverend Father Ejike Mbaka, the celebrated fiery man of God. Reverend Father Lambert also combined his worship of God with his academics and became an academic doctor, obtaining a Post-Graduate Diploma in Education (PGDE), a Masters Degree in Education (M.ED) and a Doctor of Philosophy (Ph.D) in Educational Administration and Planning. He is at present a lecturer in that department at the famous University of Nigeria, Nsukka (UNN).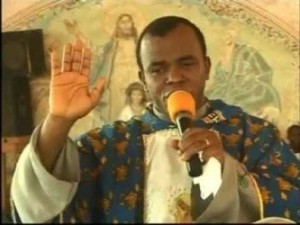 A few  weeks before Rev. Fr. Lambert got wind that he would be ordained a priest, he was at the Adoration Ministry in Enugu when revelation came to Rev. Fr. Ejike Mbaka that the Lord had given approval. Father Mbaka directed Deacon Lambert to kneel down at the altar and told all the altar boys and the congregation to pray for Deacon Lambert. After the prayer session on the head of Deacon Lambert, the fiery priest revealed to the congregation that approval had come from the Lord for the final ordination of Deacon Lambert as a reverend father.
A few weeks after, the Catholic Bishop of Nsukka Diocese, Most Rev. Professor Godfrey Igwebuike Onah, touched by Rev. Lambert's plight, did not hesitate to implement the order from God. The ordination of Rev. Fr. Lambert on April 3, 2016 at the St. Theresa's Catholic Cathedral, Nsukka was attended by over 300 priests including three fiery priests: Rev. Frs. Ejike Mbaka, Paul Obayi a.k.a. Okunerere and Mary Thomas Mkpume.
In his homily, Bishop Onah was at his craftiest best. He neither blamed his predecessor for delaying the ordination of Rev. Fr. Lambert for over 15 years nor took glory for lifting the embargo and anointing Rev. Fr Lambert a priest two years after he took over from Bishop Okobo in 2014. Bishop Onah recounted the ordeal of Jesus Christ in the hands of his apostles who abandoned him at the very moment He fell into the hands of those who crucified Him, and when He resurrected, he did not recount His betrayal and disappointment but gave His apostles peace, love and forgiveness.
Celebration
On the day Rev. Fr. Lambert celebrated his first holy, the parish priest of St Peter's Catholic Church, Ukehe, Rev Fr Agu and his team of Ordination Committee for Rev. Fr Lambert were fully stretched to limits trying to contain the crowd that trailed Mbaka to Ukehe. The crowd that gathered in Ukehe that fateful April 17 was formidable. The venue for the mass, Premier Secondary School field, could not contain the Adoration Ministry members that came from Enugu, Nsukka, Makurdi, Onitsha, Awka, Nnewi and Ukehe, the host community, which is Father Lambert's home town.
"God has a way of blessing whoever believes in Him and follows His ways"
Rev. Fr. Mbaka who delivered the homily was at his best. He avoided all controversial areas and went straight to thank God Almighty for the blessing and mercy showered on Rev. Fr. Lambert  Ejionume. "God has a way of blessing whoever believes in Him and follows His ways", he said.
"The man we are celebrating his first mass as a reverend father, would today have been celebrating his 19th priestly ordination but God has made him a hero by giving him the enduring patience to wait for the right time …. This is the rightest time to celebrate Rev. Fr. Lambert who has demonstrated his resolve to serve God, no matter how long he was frustrated from doing so", Father Mbaka preached.
After the mass celebration that attracted over 60 priests from all over Nigeria, Rev. Fr Mbaka on behalf of the Adoration Ministry donated a brand new High Lander Jeep to Rev. Fr. Lambert Ejionueme. The Ukehe parish also received the newly ordained priest with a brand new Toyota Camry.
As if that was not enough, Rev. Fr. Lambert celebrated a mass at the Adoration Centre in Emene, last Friday and Rev. Fr. Ejike Mbaka showered him with more gift items, including a mass box, chalice, altar stone, mass wine etc.
Abundant mercies, blessings
But how did Rev. Fr. Lambert feel after waiting on the Lord for 19 years? "I feel good; I am very grateful to God for His abundant mercies and blessings. It takes God's guidance and abundant blessings to stay on for 19 years without going astray."
On whether he had once felt like giving up the struggle, while the wait lasted, Rev. Fr Lambert commended Bishops Okobo (the Emeritus) and Onah (the incumbent) for their support and solidarity as the long wait lasted. "The thought to abandon priesthood never crossed my mind as the long wait lasted. I had always believed that God would not disappoint me. I am always strong in the Lord."
*Eze is a newly appointed permanent secretary in Enugu State.