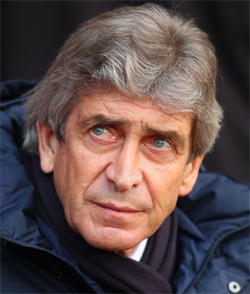 Pellegrini
Manchester City manager Manuel Pellegrini vowed that his team would play with no fear in their Champions League semi-final second leg against Real Madrid following a 0-0 first-leg draw.
Missing the injured Cristiano Ronaldo, Madrid created the better chances in Tuesday's game, but substitute Jese saw a header hit the bar and City goalkeeper Joe Hart produced late saves to thwart Casemiro and Pepe.
City, appearing in their first semi-final, did not work visiting goalkeeper Keylor Navas until Kevin De Bruyne found the target with a stoppage-time free-kick, but Pellegrini said that his side would show a greater cutting edge in next week's return leg in the Spanish capital.
"I don't think they are favourites," said the Chilean, who was sacked after only one season as Madrid head coach in 2010.
"We have the same option as Real Madrid. Of course they have the advantage to play the first game away, so they try to manage the tempo of the game.
"After that they finish at home. But this team play away very similar to how we play at the Etihad. We had good results playing away against Paris Saint-Germain, against Dynamo Kiev and against Sevilla.
"We are not afraid to go to the Bernabeu and we will see which team plays better in that game."
Pellegrini claimed that his side had shown the "most intent to win the game" and that Madrid had arrived at the Etihad Stadium "with a result in mind".
His opposite number, Zinedine Zidane, contested the claim, asserting that his team "always go out to win", but he agreed that neither side had procured an outright advantage.
"We could have scored a goal, but even with scoring a goal we would not have been sure of being in the final," said the Frenchman, whose memorable volley against Bayer Leverkusen inspired Madrid to Champions League glory in 2002.
"I think it is still 50-50. We have got a game at home. We know what we are capable of. Right until the death it will be the same. We are going to have to work hard."
Both teams have fitness concerns ahead of the second leg, but Zidane was upbeat about both Ronaldo, who missed out with a thigh strain, and Karim Benzema, who went off at half-time due to a knee problem.
– 'Good old-fashioned rumble' –
"We hope that they can both be in the second leg," he said.
Pellegrini was more pessimistic about David Silva's chances of gracing the Bernabeu after the Spaniard suffered a hamstring injury in a first-half challenge on Gareth Bale that earned him a booking.
"It is quite tough for him to recover in one week," Pellegrini said. "We will have a clearer picture tomorrow."
The City manager also expressed a measure of annoyance that his side will have a day less to recover for the return fixture due to the scheduling of their Premier League game at Southampton on Sunday.
"Unfortunately for us, we are going to have one day's less rest than Real Madrid (who visit Real Sociedad on Saturday)," he said.
"We tried to change our game and it was impossible, so we need to play on Sunday.
"But we trust in what we are going to do and we are sure we will give all we can to arrive to the final."
Hart was typically bullish, buoyed by two late saves that saw him thwart Casemiro and then, brilliantly, Pepe from point-blank range.
"We've set it up for a good, old-fashioned rumble at the Bernabeu," said the England international.
"We are not disappointed with the result. Bring it on."
Bale, meanwhile, backed the Bernabeu crowd to make their presence felt.
"We're quite happy with it," the former Tottenham Hotspur winger told BT Sport.
"We're very, very strong at home. The crowd gets behind us. It's going to be a difficult game, we know that, but one we're confident about and looking forward to."