BY JUDE OPARA, ABUJA
Certainly the last is yet to be heard about the N2.9 billion which President Muhammadu Buhari last year released to the defunct National Sports Commission (NSC) for some sporting activities.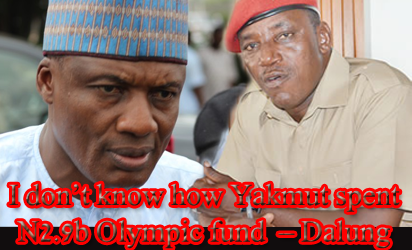 The Minister of Youth and Sports, Barrister Solomon Dalung told journalists in Abuja last Friday that he does not know how the staggering sum was expended. The money was meant for the 2015 All Africa Games in Congo, the 2015 Youth Games as well as the preparations for the 2016 Rio Olympic Games.
According to him, the former director general of the NSC, Mallam Alhassan Yakmut did not even brief him concerning the money before his redeployment.
Dalung was reacting to questions on why Nigerian athletes are finding it difficult to travel to compete for the Olympics qualification meets despite the well reported release of the said fund by the federal government.
"It is true that the President  released the sum of N2.9 billion last year to the defunct National Sports Commission but as I sit today as a minister, I have not gotten enough information as to how that money was spent. I have not and the story of the N2.9 billion is of a serious concern to me just like it is a concern to you.
"Since the former DG told you that they gave him the money, I am asking the same question which you asked, because I have seen the memo. Since he never briefed me on the issue of the N2.9 billion and today he is not here, he has left, I demanded for the memo of approval from Mr. President  and I have seen it.
"The memo is very clear. Mr. President wrote on that memo that; 'this money I am giving to you must be accounted for' Now as far as I am concerned, it is one of the challenges the new leadership is facing. Those funds are supposed to address issues but those issues are yet to be addressed up till now. I had to go out of my way to source funds to go and pay for the balance of our accommodation in Rio and the N2.9 billion is supposed to be part of that money meant for the accommodation."
The Minister also challenged anybody including the former DG to controvert him if he was not stating the obvious. He also added that his ministry is concerned about that money and would like to find out what really happened to it.