By Donu Kogbara
Nigeria has been a failing state for decades. And we've become accustomed to philosophically coping with its myriad problems and disappointing leaders. But things are particularly bad at the moment and Nigerians are extremely angry.
I've been in London for the past few weeks and several people have contacted me from home to say that there is almost no fuel or electricity…and that it's VERY hard to move around, partly because of the struggle to get petrol for their vehicles and partly because long queues at filling stations are clogging up the roads.
I have just spoken to an uncle who is in his 80s and has therefore lived through many phases in Nigeria's chequered history.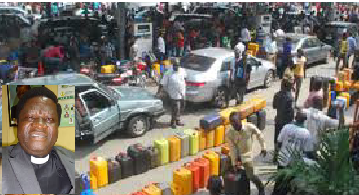 Current  fuel crisis
When he complained about the current fuel crisis, which he blames on this government, I commiserated with him but pointed out that we were having fuel crises at intervals long before Buhari took over. And he assured me that this is the worst shortage he has ever witnessed.
Meanwhile, according to a report in the Punch newspaper, two power generating plants in Shiroro (Niger State) and Sapele (Delta State) were shut down earlier this week, bringing the total number of non-operational power plants in the country to 10.
Total national power generation stood at 2,774.2MW last Tuesday, down from 3,657.5MW on March 31. As for Egbin (Lagos), the biggest of our power stations, generation was limited to 415MW and down from 1,085MW on March 15.
Various reasons have been given for these deteriorations – gas supply constraints, maintenance issues and so on. But the details are of no interest to folks who are not technical experts. All that Nigerians care about is the Bottom Line, being the fact that they are going through hell because of constant extended blackouts.
Against this backdrop of feverish tension, the Nigerian Security Civil Defence Corps, NSCDC and police have been mandated to "restore sanity" in the many places where fuel queues have created chaos; and a trigger-happy female NSCDC official shot and killed a boy in the Festac district of Lagos on Wednesday…and then ran away with her Commandant, who had ordered her to gun the kid down.
Rumour has it that he was only about l8 years old and was accosted because he was carrying a jerry can and suspected of being a black marketer. I hope the authorities apprehend his NSCDC assassins, lock them in a prison cell, throw away the key and let them fester there until they eventually die like their victim.
And, by the way, even if he was indeed a black marketer and even if they had reprimanded rather than murdered him, I would still have protested because I don't see why small-fry black marketers should be harassed in the first place!
Chronic poverty is rampant in Nigeria. Millions are hungry and desperate and feel that there is no hope on the horizon; and I for one do not blame any impecunious individual who tries to make a few paltry nairas here and there by exploiting dysfunctional scenarios that have been caused by the elite, not by the poor.
President Buhari was swept into office on a massive tide of goodwill by voters who were tired of his predecessor and yearned for Change. Obviously, it wouldn't be fair to expect him to banish every headache overnight. But he promised to transform our existences and should be making more progress at this stage.
Ifeka Okonkwo ([email protected]) is an Anambra-based Vanguard reader. I have never met him but he writes to me often; and I publish his opinions so often that he has almost become a co-owner of this Sweet And Sour page!
Mr Okonkwo used to be one of Buhari's fans, but has just sent me this email:-
"Dear Donu, Buhari has become a curse to our country. Our currency has depreciated against the dollar as never before, resulting in skyrocketing prices of basic goods and services, scarcity of petrol and excruciating power outages.
The most annoying aspect of his rule is that he is always jetting off on overseas trips, instead of staying in Aso Rock to face his most important responsibilities and solve our economic problems and alleviate the sufferings of the masses. He seems bereft of ideas and does not appear to know what governance is all about."
Sadly, Mr Okonkwo's disillusionment-driven volte face is not unusual. I've recently been taken aback by the fact that many citizens – including Northern Muslims (Mr President's core constituents) – who voted for Buhari last year are now bitterly telling me that if there's another election today, they won't repeat this "mistake".
The beef I hear most often from those who are furious with Buhari is an objection to his excessive global gallivantings.
Collective  welfare
The widespread belief is that his frequent absences imply a lack of concern for our collective welfare and deprive us of strong leadership. Some critics even accuse him of escapism…and of minimizing the time he spends in Nigeria because he is afraid of confronting inconvenient realities.
"He has realised that he lacks capacity and has bitten off more than he can chew!" was the scornful verdict of a Sokoto entrepreneur I bumped into the other day.
"Enjoying yourself abroad is easier than facing wahala at home!" said another critic who tirelessly worked on Buhari's presidential campaign and now regrets doing so.
But I do not, on reflection, share all of these opinions. Buhari is a tough military man and dedicated patriot at heart, not a pusillaminous half-wit who chickens out of tough challenges because he can't handle them…or a selfish lightweight who flits around for frivolous or mundane reasons; and I imagine that he travels incessantly because he thinks that Nigeria will gain more, long-term, if he regularly interacts with foreign counterparts who can provide various forms of foreign assistance.
But while some of his expeditions to external destinations are undoubtedly necessary, some are clearly not. And I'm convinced that he will regain most of the support he has lost in the past few months if he delegates the less crucial trips to his articulate Minister of Foreign Affairs…and concentrates on sorting out the monumental messes with which Kachikwu (his Minister of State for Petroleum) and Fashola (his Minister of Power, Works & Housing) are unsuccessfully grappling.
Democracy is about listening to The People. And I pray that Mr President will soon knuckle down to becoming the effective, hands-on Oga At The Top we want.