Made 5,500 calls to the Pontiff, as 35,000 receive prayers
We never met any American group—Ohanaeze youths
I didn't declare support for Biafra—S-East chairman of monarchs
By Anayo Okoli,  Ugochukwu Alaribe & Chimaobi Nwaiwu
ROME—Catholic Pontiff, Pope Francis greeted a group of activists from the Indigenous People of Biafra, IPOB, group, who are campaigning for secession from Nigeria, after they gathered at the Vatican on Sunday.
During his weekly Angelus address where the Pope addresses crowds of pilgrims gathered in St. Peter's Square from the balcony of the Apostolic Palace, Pope Francis extended a word of welcome to the Indigenous People of Biafra, IPOB. The Pope's statement was greeted with cheers and celebration by the Biafran group, who were waving flags during the address.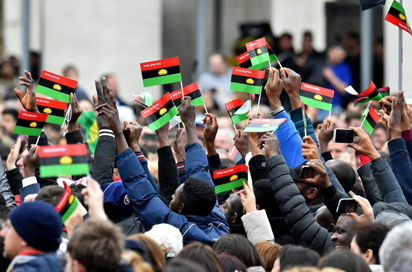 In a release yesterday in Nigeria, the Indigenous People of Biafra IPOB, said it  took its agitation for the release of its leader and Director of Radio Biafra, Mr. Nnamdi Kanu to Pope Francis at Vatican City for him to see the level of killing and injustice meted to them by the present All Progressives Congress government of President Muhammadu Buhari.
Addressing newsmen yesterday in Nnewi, IPOB Media and Publicity Officer, Mr. Emma Powerful said IPOB has made 5,500 calls to Pope Francis who accepted and gave his word to pray for the agitators and talk about Biafra and its restoration.
"The IPOB bombarded Pope Francis with 5,500 calls and the Pope answered the calls and gave his word to make sure he talks about Biafra and its restoration and  yesterday, about 35,000 Biafra agitators in Europe, Asia and America visited the Pope at Vatican City and the Pope and other Catholic leaders addressed them as Biafrans and prayed for them.That was  the first  time a world leader at that level addressed us and called us by the name Biafrans and prayed for us," he said.
"We are therefore calling on other church leaders to condemn the evil of killing innocent protesters and agitators and detention of an innocent man who did not do anything to break the law of a country we are not part of, a country that we are demanding for our freedom they have forcefully taken and upon that, they are killing us for demanding for our freedom. This evil must be condemned by the world leaders and religious leaders, whom we want to pray for us.
"We urge the Christian leaders, Archbishop of  Canterbury, Anglicans worldwide, World Christian Society, WCS, American Christians to pray for Biafra actualization and freedom. This is the time to stand up for the truth because the Boko Haram members who are killing people on daily basis have not been visited with the type of extrajudicial killings with which this APC government has visited us," he said.
Denial
Meantime, the youth wing of the pan Igbo socio political organization, Ohanaeze Ndigbo, has denied meeting with any USA- based group to discuss issues pertaining to the struggle for an independent state of Biafra as earlier reported.
The Indigenous People of Biafra, IPOB, had accused Ohanaeze Youth Council of  betraying Biafra through its alleged meeting with a USA-  based organization which came to Nigeria to hold discussions on the Biafra struggle.
In an interview with Vanguard in Aba, National President, Ohanaeze Youth Council, Mazi Okechukwu Isiguzoro, who said he has continued to receive calls from well meaning Nigerians on the development, described the alleged meeting with the USA delegation as a figment of the imagination of the authorities of IPOB.
He called on IPOB and the operators of Radio Biafra to tender an unreserved apology to Ohanaeze Youth Council and refrain from instigating crisis in Igbo land.
No support for Biafra
Also yesterday, the  chairman of South East traditional rulers council, Eze Eberechi Dick  denied declaring support for Biafra, saying that nobody should rope him into the  Biafra controversy.
Eze Dick spoke while reacting to a publication which alleged that he is supporting agitation for the creation of Biafan Republic.
Dick  who is also the chairman of Abia State Council of Traditional Rulers and the newly installed Chancellor of Federal University of Technology, Minna, said he never declared support for the agitators.
"I have never discussed such with any one at any given time either in Abia or outside the state.
"I granted an interview to reporters after the university convocation and when they asked me about Biafra, I told them that I am a traditional ruler and not a politician and that I have no interest in politics," Eze Dick explained.
He warned that nobody should drag him into the controversial Biafra issue as he believes in the development of Igboland under a united one Nigeria.
According to him, when he spoke to journalists in Minna after his induction as the Chancellor, he spoke on how he intends to take the University to a next level, pointing out that when the issue of Biafra came up, he told them that he is not a politician.
Eze Dick said that his focus is on how to give Ndigbo a sense of belonging and new direction as the leader of the traditional rulers from the zone and not to try to divide the country by any means.
" What the country needs is a united Nigeria and not a divided one so that  together, we can change the country and make it better instead of dividing it".