By Ayo Onikoyi
St. Valentine's day is here again. It is day that means different things to different people. But one thing everyone seems to be in synch with is that, it is a day to celebrate love. Most people look forward to it with so much restless yearning because they believe something out of the ordinary is going to happen to them. Not everyone is lucky though but those in relationships are sure to have something to savour. Here are some confessions of some Nollywood damsels on St. Valentine's day.
My brothers pulled a fast one on me—Enitan Odugbemi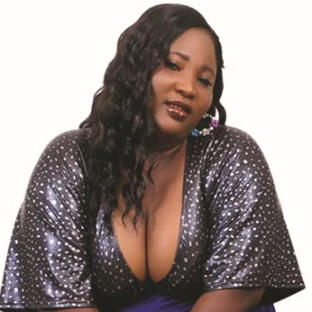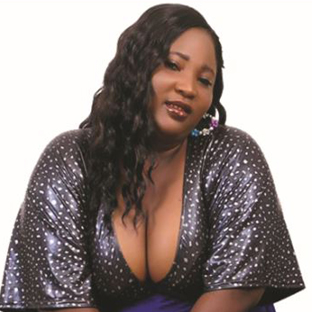 Busty and beautiful Yoruba actress, Enitan Odugbemi, who once slapped a fan who got out of turn by grabbing at her boobs has a unique Valentine's story to tell. A Valentine's experience she would never forget wasn't one orchestrated by a boyfriend or a lover but by her brothers who pulled a fast one on her to express their love for her.
"I had the most memorable Valentine experience when I received a request from an unexpected source. I had slept on the 13th and woke up just after midnight on Valentine' s day. On the table in my sitting room, was this colourful flower with its sensational aroma, a Valentine's greeting card and a perfume in a transparent case" she told Potpourri
"No name on the card and wondering who might have left the gift items in my house. I went to my junior brothers' room to inquire, but both of them claimed not to know who dropped it. Within myself, I suspected my brothers knew the person who dropped the flowers and the card but  didn't just want to disclose the person's identity.
So, I went out with my friends until I received a call from Ahmed, my kid brother who asked me if I had seen the perfume, card, and flowers he left for me. I was speechless. It dawned on me that my brother was my Valentine. I headed home immediately. It was spending Valentine's day like no other," she added gleefully.
My boyfriend gave me best shock ever—Folorunsho Adeola
Budding Yoruba actress, Folorunsho Adeola, known in the industry as Arikegold has everything going for her; good looks, brains and the talent to be one of the best in her chosen trade but somehow she has not been lucky with the opposite sex. Though she's now in a thriving relationship but she told me she finds it hard to trust completely since her experience with a guy who broke her heart by impregnating two girls at a go. She confessed that her work has mostly been  her Valentine's except one experience she had some years ago.
"My most romantic Valentine's and sexiest one was when I was in school," she said
" My boyfriend in school then, I think 2009 or 2010, can't really say precisely. He planned everything with my room-mate. He bought lots of gifts -Nokia phone, cake, chocolate, flower, and cards. The moment everybody shouted 'Happy Valentine', he called me and asked me to close my eyes which I did and he asked my roommate to bring the gifts. He told me how much he loved me, it was so romantic and memorable for me. Unfortunately, we are not together anymore. And since then, my work has been my Valentine," she quipped.
My fantasy night  in Dubai  – Uche Elendu
It is a widely known fact that pretty Nollywood actress and singer Uche Elendu married  one of her fans some years ago. Since then it has been a roller-coaster ride of joy and memories for the actress and her hubby. Even several rumours of break-up have been able to leave no dent on her matrimony. Time has come to prove it is founded on true love and understanding.
But for Uche and hubby their love story started long ago and the most memorable Valentine's day she could recall was spent with her hubby in the most exquisite situation.
"It was February 14th of 2006 and 2007 respectively. My husband had a surprise engagement party for me in the world's most luxurious hotel, Burj al Arab in Jumeirah, Dubai. It was the most romantic event of my life and the year after, on the same Valentine's day, I had my court marriage. What more can a woman ask for?", she asked giggly.
My ex gave me engagement ring— Mimi Ubini
Truly, some memories live long and die but there are those, no matter how long they live they never die. Such is the Valentine's experience actress, blogger and video vixen, Mimi Ubini had with her ex boyfriend who proposed to her on Valentine's day even though they were to go their separate ways later. But for Mimi,  the memory lives evergreen in her heart.
She shares the moment : "My best Valentine's experience was the day my ex boyfriend surprised me with an engagement ring. It was such a big shock because I never saw it coming"
"He just called me to meet him in a restaurant in Victoria Island and I was like "babe', why are we eating out?, I have just prepared Egusi soup " but he insisted and I quickly put on a jean and top. I drove to the restaurant. On getting there, I noticed he has already placed for our orders. And when I was having ice cream, I noticed a shining object. As I was about calling the attention of the manager, I discovered it was a ring and my ex went down on one knee. My heart beat faster and he said "Will you marry me?" I couldn't keep the tears from flowing down and  said 'yes'. He had the band play romantic songs for us. Afterward, we headed home and made sweet love. Unfortunately, we are no longer together"
I got my first real diamond watch – Ella Mensah
Hot and wild as they come, Ella doesn't set rigid rules
for herself. As an actress, the Ghanaian beauty takes on roles many of her colleagues wouldn't dare. Getting really romantic and sensual on set is to Ella what candy is to a child and she has even played as a lesbian, a role many wouldn't touch.
She's one of the most popular Ghanaian actresses in Nigeria. In fact Ella seems to spend more of her time in Nigeria than in Ghana and it seems to be paying off for as she has become a darling of many movie producers.
Trust the hard-partying, girl-about-town Ella to have had a number of blissful St. Valentine's days but the one she holds most dear to her heart is one she got a real diamond watch.
"My most romantic Val ever was the one my ex boyfriend bought me my first real diamond watch," she gushed.
Hot Val's gift from a stranger  — Oma Iyasara
Beautiful, buxom and bold Oma Iyasara once told Potpourri she would not take lies, disrespect, violence, arrogance and stinginess from her man.
"Well some guys can be disrespectful in the sense that they can speak to you anyhow, even in front of friends and family. When it comes to arrogance, maybe I should substitute that with ego.
I can't stand being in a relationship with one who is proud and sees himself as superior, and never admitting when wrong." she had explained. For her, a Valentine's day worth remembering was that of last year when a stranger sprung a surprise on her by turning out to be her mysterious Val.
"I got a  hot Valentine's gift from a guy I never knew before.  I made my hair a day before and then he teased me about it saying "you are getting ready for Val". I laughed and said I had no boyfriend, so no Val . He asked for my address and I got a gift pack delivered to my house from him. This melt my heart that some gentlemen are still out there," she beamed.
My boyfriend washed all my clothes —Patience Erdoo
Former beauty queen, Patience Erdoo Yisa, from Benue State, who made her mark in  modelling before taking Nollywood by storm is single but will be quick to remind you she's not searching.
When it comes to the matter of the heart  she is no cheerleader as she has seen a bit of it. Though she's not looking forward to this Valentine's day with any unusual enthusiasm but she recalled one she would never forget in a hurry.
"My most memorable Valentine was like three years ago. My boyfriend is usually a very proud person but on that day, I remember I wanted to take my clothes to the dry cleaner and he was like "sweetie, let's do this at home".
He washed all my clothes while I sat next to him. Few minutes later, a lady walked up to me and asked. "please, are you Miss Erdoo Yisa?'',
I said yes, she said please, I have a message for you from Mr…….., and guess what it was, my favourite flower – a white rose, with some candies, and  a gold chain. It was  basically a goodies' bag. Although, it was an all home affair but it was sweet.  Please, don't ask me what happened next", she said with a mischievous wink.