No fewer than 1000 secondary school students in Ondo State have been trained by the State Government as health marshals to help drive among their colleagues its Adolescent and Youth Friendly Health Programme (AYFHP).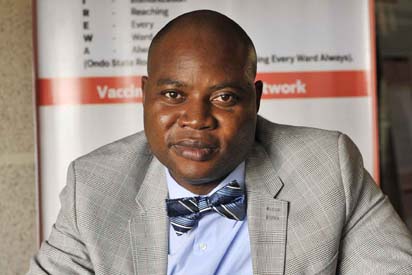 The State Health Commissioner, Dr Dayo Adeyanju who made the revelation while speaking on the success of the Adolescent and Youth Friendly Health Programme said the initiative is a model for the Country having been successfully piloted by the State.
The successes we have recorded is just too numerous which is why other States and even the Federal Government have come visiting to learn from our lessons.
He said the Ondo State Government introduced a multi-sectoral approach Programme to help challenge the resourcefulness of young people towards productive engagement instead of destroying their future with youthful exuberance.
" To ensure we had a successful outing for the programme, we did a baseline survey on young people's perception of health facilities, attitude of the workers, long waiting hours, confidentiality, physical environment among others.
"Based on our findings, we moved to business by mobilizing top-level political commitment and launched an action plan which involved an established network of stakeholders and collaborators including the Federal Ministry of Health, Ministries, Department and Agencies of government, Non-Governmental Organizations, as well as development partners, most especially the Ford Foundation that gave us unprecedented support.
Adeyanju added that government also established a fully functional governance structure institutionalized into the state system in the hierarchy of the state ministry of heatlh, a technical working group, local government desk officers, health facilities desk officers, youth  group coordinators.
"Our other strategies include a functional website, sensitization of  Medical Directors , Chief Nursing Officers and Adolescent focal persons on Youth friendly services , training of  AYFH clinic service providers as well as collaboration  with  Out-of-School youths in the State."
" We also inaugurated health clubs to help drive this campaign to success in our Secondary schools, collaborated with Ministry of Education to train teachers on adolescent and sexual education, the Ministry of Women Affairs and Social Development on sound parental guidance for the children, the Ministry of Culture on how to use culture to instill moral values in our young people, the Ministry of Information on right attitude to challenges of life and the State Action Committee on AIDS (ODSACA) on sex education."
"Ondo State built and fully equipped the first purposefully designed Youth Friendly Center in the country that was commissioned by wife of the Governor, Mrs Olukemi Mimiko, in addition to making our health facilities youth friendly, trained service providers with Clinical Protocols and Job AIDS, trained service providers on the use of AYFHS Job AIDS, Cue Cards and FAQ for service providers in primary health care facilities in Ondo State, Intensified its campaign against drug abuse among youths, campaign on safe sex toReducing the scourge of abortion and HIV infection among the youths."
He explained that as a way to carry along all segments, government also empowered youths with disabilities to create equal access, emplaced skill acquisition programmes, trained of out-of-school youths, used sports fiesta as opportunity for creating awareness, as well as hold regular consultative meeting with technical experts and partners to discuss challenges and analyse feedback.
"We know we are not yet there but have recorded major landmarks, little wonder the lead consultant for the project's evaluation from the Ford Foundation, Prof Adesegun Fatusi noted that the major strength in the programme is the strong political commitment of the State Governor and  the Hon. Commissioner's passion and readiness to commit the resources available while the five key objectives that the Ford Foundation grant was provided for have been clearly achieved in the period under review, and therefore fulfilled the terms of the grant" Adeyanju said.