By Babajide Alabi
Nigerians cannot complain of lack of political leaders. And in the same vein, leaders cannot complain of lack of followers. Over here political leaders are made every second of the day. It is how you project yourself that will establish you as a leader.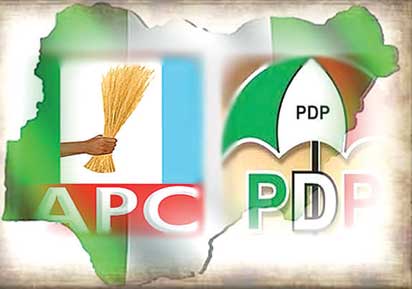 You can come from nowhere and become a political hero in few seconds. It takes little effort. All you need to do is to research to what topic will resonate with the masses, find a good occasion to deliver it and you are made. The political history of Nigeria is littered with such "brave" men and women.
Before and after  the 2015 General Elections there were many interesting developments. We were all witnesses to the mass defection of unprincipled politicians from the People's Democratic Party (PDP) to the All Progressive Congress (APC), which many "hailed" as "wise" decision to join the change bandwagon and also escape from corruption probes.  Apart from this, we all know that politicians are unstable, hence they tend to go where their breads would be buttered.
At the height of these defections, a few politicians decided to step forward and become heroes of democracy.  From no where they came like saviours, with soothing voices, as messiahs who have been mandated to rescue the common Nigerians from what they see as political oppression.
The speeches of these nouveau politicians were good music in the ears of Nigerians.  And thank God for the social media, the views were passed around the world. However, not all of them made sense of what they were saying.
During this void and up till today the Ekiti State Governor Ayo Fayose took it upon himself to square up with APC's Muhammad Buhari. He literally abandoned his post and was fighting, according to him, on behalf of the "masses" in his bid to "expose" Buhari as unfit. His mission is still not clear to Nigerians as he has become more loud in his criticism even after the President was sworn in.
Thank God for the social media. There is no need for political gladiators to mount rostrum before their messages are heard. The social media has become an effective platform for politicians to launch themselves.
It was by the power of the social media that I discovered, like many Nigerians that we have political characters such as the then Senator-Elect Ben Murray Bruce. I had a good idea of him as an impressive showbiz promoter and businessman as the chairman of Silverbird Group. But that was as far as it went. Only few Nigerians has ever heard him speak on political issues like he did on that night in May last year.
You can therefore imagine my surprise when I watched the video clip of this gentleman in which he outlined the reasons why the great country has refused to walk. He spoke like a man troubled, pained by the state of his dear country.  I fell in love with him watching the video and hear him talk about how he had never flown in first class before. I was amazed at this man who, despite overseeing a massive business empire said he had not slept in hotels above 300 dollars per night.
The Senator raised the hopes of all Nigerians by his plan for the future.  As the video clip was making the rounds on the social media, he became the new political celebrity. His followers on the social media tripled as Nigerians watch the clip thousands of times, digesting the content.
They were happy that somebody of Murray-Bruce economic statute could relate to their pains in simple, clear sentences. The hope for a better Nigeria suddenly became a reality. Many saw in the Senator an Obama of Nigeria. This was not only in physical resemblance but with oratory skills of the President of the United States of America (USA) Barrack Obama.
Nigerians hailed when he said: "In the Senate, am gonna create a bill for a billion dollars so very poor home in this country will have a Solar Power every poor Nigerian family, and I need our support, if my colleagues say no you tell them yes, I want you to tell my colleagues to create a billion dollar fund."
Murray-Bruce continued: "We will have Solar Power and inverters in every home in Nigeria, so every child can do the homework with light, watch TV, listen to radio we will create 50,000 jobs a state, after the Solar panel is installed, we will charge every home 1000 Naira so this 50,000 kids can service the equipment."
Nigerians clapped harder when he got to this part. They knew where the shoe pinches and this new politician is saying the right "words". On the other hand, many sceptical Nigerians refused to be hoodwinked by the sweet words of Murray-Bruce. They advised him to take a reality pill as a political "newbie" who  should learn the ropes. They reminded him that showmanship is a different cup of tea. These Nigerians were not impressed at all.
To be honest, I got sucked in by the great speech and I was looking forward to the Senator to take his seat in the lawmaking chamber. I had high hopes of a better Nigeria from this fresh faced politician. On assumption of his legislative office, he announced he was donating his "Wardrobe Allowance" to  Osun State to pay workers. Not quite sure if his donation was accepted by Rauf Aregbesola.
However, give it to the senator, he made practical his campaign for patronage of locally produced goods when he took delivery of his Made In Nigeria jeep last week. While Murray-Bruce has not presented bills that would bring about the Nigeria of his dream, he has been very busy in other jobs.
In recent times, the Senator has been more busy outside the chamber than in the job he was elected to do. He has assumed a celebrity status on the social media. You will sympathise with him in this wise, as he was politically discovered via the social media. He has therefore been "idealising" a great Nigeria on Twitter.
He has also taken the role of opposition to the ruling party, not by his bills in the Senate, but his tweets thereby becoming a thorn in the flesh of the APC-led government.
Murray-Bruce has an ally in Fayose who also has not relented in his off the cuff criticism of every action of Buhari. The two of them have been keeping the PDP going in their roles as opposition figures.
Fayose has never hidden his wish to end the APC reign at the federal level. Despite lack of any real development in Ekiti State, Fayose seem to be more interested at the plights of all Nigerians than his Ekiti constituency. Surprisingly he has been offering financial advise to the Federal Government on how to manage the foreign exchange. He believes devaluing the Naira is the only way he can bring development closer to his people.
It is not strange to mention Murray-Bruce's name in the same breath as Fayose's. Although they are both elected officials, they have been the most vociferous of the remnants of PDP. These are the new political cult leaders. Will they fade away or stand the test of time? Let's keep watching.