By Funmi Komolafe
Brothers and sisters,  I start Joyful Homes, this week, by giving thanks to the Almighty God for life.
This is something we usually take for granted.    It is commonly said that " while there is life, there is hope". To a believer, this    also is an assurance that your desired miracle is on the way.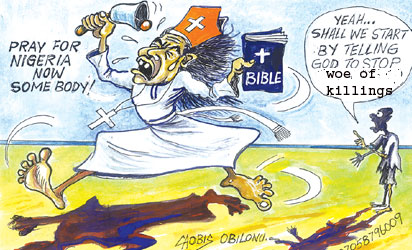 A miracle is something out of the ordinary, something  medical science cannot explain, something that happens as a result of divine intervention.
The truth is that many miracles generate controversy because people who view issues only from the physical question  them.
For instance, a woman, who had been considered barren for about 20 years, had a breakthrough and had a son.
Ordinarily, you would expect that everyone around her would share in the joy.
You are wrong.    Some people began to ask questions : Was she pregnant?      Is it possible for her to have a child at about 50 years?    Did you see her in any    maternity gown?
Questions and questions.    A few people, who saw her, said they knew she was pregnant but others    did not believe. Why? They had assumed that every pregnancy must shoot out like Kilimanjaro mountain, which is not true.
Unknown to them, this woman was under serious demonic attack from household enemies who had vowed she would never have a child in her marriage.
She was, however, determined to have children. So, she persisted in prayer, fasting and praise worship.
Dreams
This woman, after series of prayers, had a dream in which she was told she would never have children. During a  service at Laughter Foundation International Ministry, Lagos, which she attended, all women were given a prayer point. After the prayers, she had the dream again but, this time around, a small voice told her, " They are liars". That was a clear indication that  a battle had started between the forces of darkness and the Light of God. Of course, you know who will win.
It was not long after this that she got pregnant.
And she  continued to pray. Then, she  had another dream.
She saw two women who    placed their hands on her stomach .    The women had with them a man who appeared like a herbalist.      The three of them tried to bring out the baby during which the woman saw herself losing a lot of blood, but they could not bring out the baby.
Frustrated, they left saying, " God had shielded the baby the way a mother hen protects her chickens". The woman woke up terrified but thankful.
The good news is that even though she carried this baby for years, going from Nigeria to Europe and doctors could not see the baby,    God intervened and she gave birth to a baby boy.
Hers is a clear demonstration of "power pass power". The household enemies eventually surrendered to the power of the Almighty God.
Now, the lesson here is found in the book of Proverbs 3 verses 24 to 26. Verse 24:" When thou liest  down , thou shall not be afraid : yea thou shall lie down, and thy sleep shall be sweet".
Our emphasis is verse 25: " Be not afraid of sudden fear, neither of the desolation of the wicked , when it cometh".
Verse 26:" For the Lord shall be thy confidence, and shall keep thy foot from being taken".
I'm making the point that this woman exhibited  confidence in God with persistent prayer.  She failed to succumb to the forces of darkness.
In other words, she made up her mind to prove her enemies wrong . Her bad dreams rather led her to seek God more and she eventually broke though.
What is it that you are believing God for? A job, a marriage partner, a child or two?
Whatever it is, always bear in mind: "With God all things are possible".
Be watchful    
As we pray, we cannot afford to live a care -free life. What do I mean ? I'll share s few examples to buttress my point.
A woman, who had been waiting on the Lord for children, got pregnant .    About a few months into her pregnancy, a social event came up in her village and she decided to attend.
On getting to the village, she stopped to see her father who lived with his second wife.  Her own mother had been separated from her father.
The stepmother then urged her to eat. She brought a plate of rice with some pieces of meat.  Though the lady told her she didn't want to eat, she agreed to eat essentially to please her father.
As she was about to eat , the still small voice told her not to eat.    So, she quickly looked into her bag and found a small black nylon. Quickly, she poured a part of the food into it and adjusted the plate in a manner that anyone would think she had eaten the food.
After a few minutes, the stepmother looked in and commended the lady for eating the food.
She soon left them and went to her mother.
Somehow, she forgot the rice in her bag.    The following morning, she remembered the  rice and decided to throw it away.
What did she find?    White rice and the pieces of meat had turned black, as black as charcoal.
Of course, her biological mother screamed and wanted to create a  scene.    Her mother got the message. Her rival either planned to terminate the life of her daughter or that of the baby in her.
The lady pleaded with her mother not to create any scene. Instead, she sneaked    out of the village.    Of course, she    did not attend the party that she travelled to attend.
The lesson here is simple. Be watchful. Don't be careless.
Perhaps more importantly is the grace to hear from God.
How often do you hear from God?      Are you ears receptive?
We need to pray and praise the Lord to the level that we are able to hear from Him.
Hearing from the Lord saves us    from danger. It reveals to us plans of the enemy even before they are executed.
I suggest that when we make our supplications to the Lord, we should also ask for the grace to hear from Him.
The    still small voice is crucial to a breakthough.
Yours is on the way, in the name of Jesus.