By Francis Ewherido
I was jolted a few days ago when I stumbled on a letter written by my nine-year-old son. I was the subject matter. The letter was addressed to no one, but he did ask God a few questions, so I assume he wrote it to God. My initial reaction was anger, then outrage. "What came over you, this boy?" I asked him. He later apologized. As my anger subsided, my mind went back to a little over 40 years ago, when I was his age. I did tackle my father, but not that hard. In fact, the only tackle I could remember, at nine, was when I had malaria. My father felt I was too weak to give myself my bath. After they had run the water, he took me into the bathroom and wanted to remove my clothes, but I resisted. He was stunned: "what do you have there that you are hiding, "he asked sarcastically, and stormed out.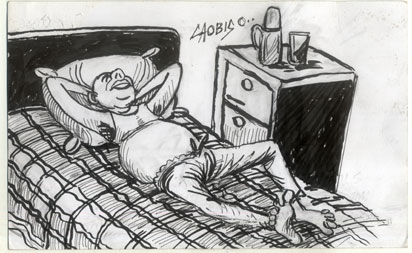 The only other tackle, not really a tackle because I only grumbled silently, was when he took us for haircut and instructed Happy, the barber, to give us moromoro (skin cut) when afro was in vogue. My frustration then informed my decision to allow my children choose their style, provided it is not outlandish. I remember the first time they chose their hairstyle; when we came back, my wife was alarmed. "Were you there when they had their hair cut?" "I was," I responded. "And you allowed them to choose these styles?" "Please leave them," I told her. Her inquisition continued anytime we went for a haircut until I decided to put an end to it.
First, I told her how I used to resent my father for choosing a hairstyle for me. I do not want to drive my children to resentment, if it is avoidable. Two, as children grow into their teens, parents do have many battles with them because of contrasting world views and perceptions. Parents must know what is fundamental, where they will not shift ground, and areas where they will meet their children half way or allow them have their way. For me, hair cut falls into the second category. I told my wife that it is not healthy for us to win all the battles, because we shall definitely drive the children to resentment.
I am currently home with mama—I could not travel during the Christmas period—telling her my battles with her grand children and comparing notes on my own battles with her. Last Saturday, my eldest daughter returned to school. My wife told her younger brother to accompany us so that he could help with the luggage when we got to school. He said he wanted to change from shorts to trousers. My wife said the shorts were good enough, but he insisted and went to change. Meanwhile, we were running late. While my wife was yelling at him to be fast, I told my daughter to come into the vehicle and we drove off.
My wife did not know what was going on in my mind. Thirty five years ago, my father was transferred to Urhobo College, Effurun, Delta State. All my siblings in secondary school, except me, followed him to Urhobo College. I refused because I did not want to wear shorts to school in Effurun/Warri. I only moved to Urhobo College when I got to class five and started wearing trousers. When I refused to wear shorts for two and a half years, why should I split my hair because my son refused to follow me to a female school in shorts?
When I was 17 years, things were falling apart on the home front one day and there was mama, calm, singing and praising God. It was too much for me to take and I screamed: "this is what makes me run mad; things are falling apart, instead of finding solutions, mama is calm, singing and praising God." It is not what I said that upset mama; her grouse was that I said it in the presence of an outsider. My brothers told me to apologise, but I refused. I reasoned that the girl is Igbo and I spoke Urhobo, so she did not understand what I said. Mama faulted my argument; she said the girl was born in 1971, after the Nigerian Civil War, in Urhoboland, so she understood Urhobo.
But I stood my ground. It was not until mama saw me along the road and passed as if I never existed that the enormity of my intransigence hit me. Until then apology was dormant in my vocabulary. That experience activated it.
Another battle was during my second year in the university. That was the era of punk couture (AKA whatsup). I was dressed, ready to go out when mama said I could not leave the house dressed like that. I reminded her that I was now an undergraduate and a big boy. She said okay and I thought the case was closed. As I was about stepping out, she screamed: "you mean you are going to disobey me and go out like that?" I backed down and went to change.
As we relived the old times, I reminded mama of a story she told me long ago. A man went to farm with his eldest son. He sent him to fetch water nearby. The son felt his father's wahala was too much and urinated in the water. The father unknowingly drank the "wee-wee water." Long after his father died, he went to the same farm with his son. He sent him to fetch water from the same source. When the son brought the water, he tasted urine while drinking it. He remembered what he did to his father and tears cascaded down his cheeks.
Now, I am drinking "wee-wee water," just as I gave my parents to drink. I cannot wait for my children to start their own families. They too shall drink "wee-wee water" at some points; it is inevitable in parenting.