By Francis Ewherido
Do you want to live long? If yes, read the secrets of longevity from his Royal Majesty, Ovie Richard Layeguen Ogbon, Ogoni-Oghoro 1, the Ohworode of Olomu Kingdom, Delta State: "First and foremost, the secret is God Almighty; it is a special gift from God to be alive till this moment. I cannot say because I am a king, hence I have long life…I take good care of myself, I don't eat anyhow, I regulate whatever I eat and avoid any food that would have negative effects on my health.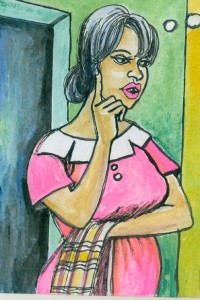 "I try to avoid all forms of stress by not overreaching myself in achieving a lot. I don't compete or compare myself with others, because I know all that I will achieve in life is not by my strength, but by the mercies and favours of God. That is why I sleep like a baby all the time; I do not need sleeping pills to be able to sleep soundly." Hmmm, the Ohworode sleeps "like a baby all the time" in a world where more than half of the people suffer from one form of sleeping disorder or the other, and where pharmaceutical companies rake in trillions of naira every year from manufacture and sale of sleeping pills.
If you are wondering why you should take the advice of the Ohworode serious, he will be 99 years on January 20, 2016, just a year and 11 days shy of his centenary birthday. But that is not all; God has blessed him with tremendous health of mind and body. At almost 99 years, he reads without glasses and travels all over the world unaccompanied and unassisted. His dentition is still intact, not a single tooth is missing.
The secrets of Ohworode's longevity are really open secrets. For instance, our lives, like the Kings heart, are in God's hands. He numbers our days and nobody dies without His knowledge. We are also what we eat. Many of the health problems and challenges we face today are outcomes of our life styles, what we eat and drink. The monarch's meals are measured and contain a good proportion of fruits and vegetables. Many people literally and actually eat and drink themselves to death.
However, the unspoken secrets of Ohworode's longevity are uncommon discipline and strength of character. These are what many people lack. At the beginning of every year, people make New Year resolutions. Some are well thought out and in sync with their core, while some are just mere wishes that beggars would ride if they were horses. But whether well thought or haphazard, your resolution will end up unrealized, unless you have the Ohworode kind of discipline and strength of character to go with it.
Many resolve year after year to stop smoking, avoid drunkenness and other vices that are detrimental to their health. But barely days or weeks into the year, they go back to their bad habits. Some have died in the process while others have done irreparable damage to their health. But hear the Ohworode, "I neither smoked nor took alcoholic drinks right from my youth."
The Ohworode tries to avoid stress by not overreaching himself. Many people today are the exact opposite. Many live like Mo Farah (current World and Olympic 5,000 metres and 10,000 metres champion) doing the last lap of his race. He constantly looks over his shoulders to see whether or not his opponents are closing the gap. But Farah's is only momentary, about 20 seconds only and only during competitive races, which are not more than 10 races every year. So, it has no long term effect. But for the people in question, it is a way of life. They worry about what the other person is doing, how many children he is going to end up with, the size of his new house, the size of his bank account, the brand new vehicle he just bought. The list goes on and on and by the time they are done, they have a mountain of foolishness and nothingness to give them sleepless nights.
We might live in a competitive environment, but in life everybody has his unique race. Once you find your tracks, run your race well; what manner of race your neighbour is runs is not much of your business. Your fulfillment and accomplishment are defined by your personal goals, not another person's. How do you compare the success of Aliko Dangote, the entrepreneur, and Wole Soyinka, the writer? That is why the Ohworode (and purpose-driven people) says, "I don't compare myself or compete with others." Life is not always competitive sports or elections where there are winners and losers. You can be interested in what people around you are doing, but your race must be personalised.
Anyway, next Saturday, all roads lead to the Palace Ground, Ogoni-Olomu where Urhobo Social Club, Lagos, is holding a grand reception in honour of the monarch. In the thinking of the club, heroes should be recognized and celebrated while they are alive, not after their demise. The club is also thanking God for giving the highly revered monarch health of body and mind into old age.  The Ohworode was born on January 20, 1917.
He attended various teacher training schools and institutes before commencing his teaching career on January 1, 1944. He retired as a principal assistant education officer on December 31, 1980. On March 12, 1988, he was installed and crowned as the 12th Ohworode of Olomu Kingdom. The Ohworode has the rare honour of simultaneously being a traditional ruler and an ordained priest. He is a Royal Canon of the Anglican Communion, Ughelli Diocese, and the only Royal Canon worldwide. He converted to Christianity in 1936.
He is a recipient of many awards among which is the Officer of the Order of the Niger, conferred on him by former President Goodluck Jonathan. He is currently the chairman of the Urhobo Traditional Rulers Council.