By Sonny Atumah
The Managing Director of the International Monetary Fund (IMF) Ms. Christine Largarde, a fortnight ago visited Nigeria and held crucial talks with President Muhammadu Buhari and other top echelon of the Nigerian government. She also had interactions with legislators, business leaders, prominent women, and the civil society. Ms. Lagarde prior to the visit looked forward to productive meetings with President Buhari on how his team was addressing the economic challenges occasioned by low oil prices. At the end of the visit, the Bretton Woods Chief advised Nigeria to devalue her currency, increase value added tax, withdraw petroleum subsidy and so forth.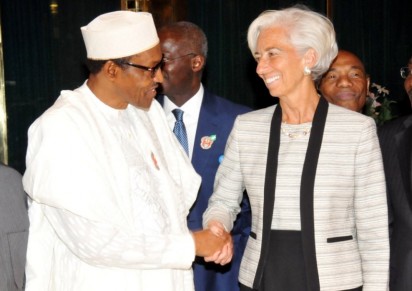 I wish Ms. Lagarde knew that IMF chiefs' visits to Nigeria are seen as anathemas after the Structural Adjustment Programme's (SAP) riots of 1988. Most Nigerians knew her mission and had ready answers which the government did not mince words in saying "NO" to such overtures. Economic watchers wondered  why an IMF chief that superintends a global financial institution would encourage a nation that had adjusted (devalued) her currency by 26 percent twice in two quick successions would encourage her to further devalue because of falling oil prices in a monomaniacal economy like Nigeria.
By November 25, 2014 the Nigeria's Monetary Policy Committee adjusted the official retail Dutch Action System (rDAS) was adjusted by 8 percent from N155 to N168. By February 18, 2015 again the currency was devalued by 18 percent from N168 to 197. The IMF recent currency study says that global trade is still dominated by the export of goods that sold better after a cut in exchange rate. Continuing, a 10 percent cut in the value of a nation's currency can boost exports by an average 1.5 percent of GDP; a benefit in exchange rate for foreign trade. (The Guardian London)
IMF's fears were that the global economy would likely suffer another round of currency wars dominated by the export of particular goods (cars and fridges) that sold better after exchange rate cuts made them better. That was a kernel in the IMF's world economic outlook considered last October in Lima, Peru. The IMF worries that currency wars via exchange rate manipulations by nations that export goods to make better sales portend danger in the international finance system. Their concerns were genuine but can Nigeria that virtually relies on crude oil exports fit this category of nations?
Further devaluation of her currency that is on a downward spiral would not help Nigeria. This advice one believes may not be a viable alternative for the Nigerian monetary authorities that are grappling with teetering economy. Nigeria's devaluation would have made sense if it was based on her capacity to refine petroleum products for exports. That would have been more rational considering the 340 million market potentials in West. With that we would have an increased fiscal revenue, increased employment, skills, technology and increased GDP thereby reducing destabilizing tensions in the polity.
We are still buying refined products overseas with the devalued Naira. So the country is paying exorbitant rates for price differential between the landing cost and the pump price which we called subsidy. Even when we withdraw subsidies as many are suggesting, private importers of products drawing from our scarce foreign exchange would continue to go for the jugular.
With the devalued Naira, petroleum products would still land at high rates at the pump. It is still the vulnerable that would bear the brunt of high exchange rate of importation as we are attempting price modulation for petroleum products. We must solve the problem of idle and decayed refining infrastructure. The Minister of State for Petroleum Resources and GMD NNPC, Dr. Ibe Kachikwu in a news conference late December 2015, announced that templates for the implementation of products price modulation presented by the Petroleum Products Pricing Regulatory Agency (PPPRA) were being reviewed by the NNPC which implementation commenced in January 2016.
He said that price would no longer be fixed but that the price of crude would continue to determine the price of products. Ordinarily, when you modulate you have altered something to make regulation less forceful. So prices would be determined by the vagaries of crude oil prices in the international market. The government price modulation template released on the 7th of January 2016, may have removed the tax component of highway maintenance, government tax, import tax and fuel tax (Serial 17-21 in the Cost Elements column)to arrive at the N86 to fix a price floor that may be adjusted upwards later.
Indeed the crude oil price changes now are eccentric, almost like the weather though the Minister gave the impression that foreign exchange provisions would be examined for stability in the system. The modulation templates government adopted tends to follow the Bretton Woods institutions rhythm.
Reason: "Lower oil prices provide an opportunity to phase out fuel subsidies. The recent drop in crude oil prices (and lower petrol and kerosene prices) could facilitate the completion of the subsidy reform, which started in 2012. Staff recommends introducing an independent price setting mechanism to smoothly pass through international price changes to domestic prices and gradually eliminate fuel subsidies…" (IMF Nigeria Country Report 2014 Article IV Consultation)
Nigerians indeed appreciate the fears and concerns of our economy by the Bretton Woods institutions. We would appreciate advice that would make us rehabilitate our refineries, stop export of crude oil and stop importation of petroleum products.
Distressed Nigerians need to enjoy public good like their counterparts elsewhere. Good governance that President Buhari promised us would be realized if stolen funds in world financial hubs are repatriated. The Bretton Woods institutions would be of assistance in monitoring illegal fund transfers from Nigeria to vaults in New York, London, Switzerland, Singapore, Cayman Islands and elsewhere.