Sebastine Obasi
The Independent Petroleum Marketers Association of Nigeria, IPMAN, said the decision of the Nigerian National Petroleum Corporation, NNPC, to supply petrol directly to marketers will go a long way to ease up the lingering fuel scarcity in the country.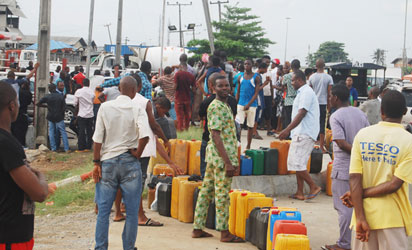 The National Operations Controller of IPMAN, Mr. Mike Osatuyi, who stated this also called on the federal government to deregulate the industry now that the oil price has fallen.
Speaking with journalists during an inspection of filling stations around Akute, Ogun State, Osatuyi said their members across the country benefitted from the intervention, adding it would go a long way to stop scarcity and selling of petrol above regulated pump price. He assured that his station and those of other members would not only sell at N87 per litre but will operate for 24 hours to ensure that motorists and commuters don't suffer for lack of access to fuel.
Osatuyi said: "We are here to showcase what the Federal Government is doing in terms of PMS intervention scheme. You can see that the government is bringing petrol to dealers to sell at official price of N87 per litre, and we are selling at N87. They brought two trucks which we are yet to pay for. This is unbelievable. We have never seen this before.
I want NNPC/PPMC (Pipeline and Product Marketing Company) to continue and sustain it. We at IPMAN can assure the government that we will support them now they have agreed to partner with us. We will not fail them. This is for the benefit of the masses, which the government of President Muhammadu Buhari stands for.
"The product is sold at N87 here at NYCE filling station, but about 80 per cent of filling stations in Nigeria sell above N87 but with this intervention, the price of N87 per litre will be uniform across the country. The process has just started, we need to be patient and believe in government, and very soon the question of selling above the official price will not be there at all.
According to Osatuyi, IPMAN members control about 84 percent of retail outlets in the country, which put them on a good stead to reach every part of Nigeria. "IPMAN members own and control about 84 per cent of the retail outlets in this country, so now the government is ready to work with us, we too are ready to work with them. If they give us the fuel, we sell it. NNPC can only supply 52 per cent of our national need. I understand and have confirmed that they have stepped up importation to bridge the gap. I believe they will sustain the intervention. If they sustain it, we are ready to sell to the public."
Osatuyi however, noted that the ultimate thing for the government is to deregulate the downstream.  He said since former President Olusegun Obasanjo deregulated diesel about 14 years ago, nobody has heard anything about diesel scarcity. If petrol is deregulated, we will have various prices of marginal differences but fuel must be available.
IPMAN is not alone in the call for deregulation of the petrol in Nigeria. The International Monetary Fund, IMF, has also called for using the present low price regime to remove fuel subsidy and deregulate fuel prices. The IMF in its updated strategy recommended an automatic price change mechanism that changes price slowly.
Price modulation means that government will ensure initial slow price increases by regulating the components of fuel price such as taxes, freight, margins, transport, storage and bridging. The slow fuel price increase will reduce immediate mobilization and opposition. There will be no direct government regulation of fuel prices. Rather, the marketers and traders will fix the final fuel price. Price modulation fixes the bottom commodity price in a market by tweaking price components. The Petroleum Products Pricing Regulatory Agency, PPPRA, will fix the minimum fuel price and the fuel cabal/marketers can sell at whatever price the customer will pay.
Sweetcrude gathered that in several meetings held in Abuja and Lagos, IMF staff members explained the updated strategy to officials of the Federal Government of Nigeria. The report of these meetings stated: "Lower oil prices provide an opportunity to phase out fuel subsidies. The recent drop in crude oil prices (and lower petrol and kerosene prices) could facilitate the completion of the subsidy reform, which started in 2012. Staff recommends introducing an