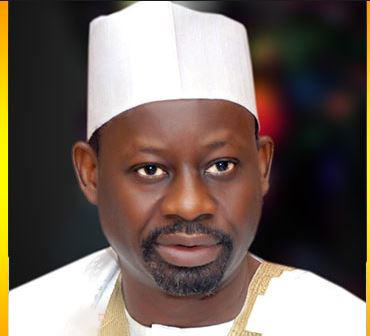 Dankwambo
By Adekunle Adekoya, General Editor
HIS meteoric rise in the accounting profession is just as arresting as his political ascendancy within a relatively short period of time.
Ibrahim Hassan Dankwambo, Executive Governor of Gombe State cuts the profile of a risen phoenix, a cool calculating executrix that seems to have plotted, almost with precision , his ascendancy both professionally and politically. When the nation returned to democratic civil rule in 1999, Alhaji Habu Hashidu, a former minister of agriculture, won election as governor, but failed to secure re-election in 2003.
A businessman, Alhaji Danjuma Goje of the PDP defeated him, and served as governor for two straight terms till 2011. All that time, Dankwambo was plotting his moves. First working with Coopers & Lybrand in 1985, the nation's former number one book-keeper also worked at the Central Bank of Nigeria from 1988 to 1999, from where he was appointed Accountant-General of Gombe State, a post he held till 2005 when he was appointed Accountant-General of the Federation in April 2005.
It would seem as if, from this vantage position, Dankwambo was able to see things more clearly, especially as they concern his home state, Gombe. As Accountant-general, all the figures about the nation's finances are at his beck and call, available at the snap of his fingers or the click of a computer mouse. Seeing what the omens portend for Gombe, from a book-keeper's point of view must have made his mind up for him to seek political power in the interest of his people, since politics drives economics.
How Dankwambo got the PDP's nomination to run for governorship is both a curiosity and an attestation to his political nause. Usually, out-going governors (governors serving their second terms) very often dictate, indeed, anoint their successors from the cast of aides and commissioners.
This is because a hostile take-over does nobody any good, as some people are presently re-discovering. Even Chief Olusegun Obasanjo hand-picked late Alhaji Umaru Musa Yar'Adua to succeed him, ostensibly to keep things the way they should be.
In Gombe, former Deputy Speaker of the House of Representatives, Alhaji Usman Bayero Nafada had been the favourite to succeed Danjuma Goje as the next governor. In fact, Nafada, was sure to win the nomination, but from out of the shadows, Dankwambo emerged in the political firmament of Gombe State, pitched tent with the PDP, overshadowed Nafada, and went on to secure the PDP nomination and win the governor's seat.
Almost from the start of his tenure, differences between Goje and his successor began manifesting, and it peaked with the defection of Goje to the APC. This made it look like a tough job for Dankwambo to secure re-election in 2015, given Goje's widespread influence and the tsunami-like reach of the APC coalition.
This was made more likely as Goje had previously unseated his predecessor, Alhaji Hashidu, and the feeling in town was that Goje would oust Dankwambo.
It was not to be, as Dankwambo, like a lurking lion in the savannah devoured his political opponent in the election.
Again, in October, the election petition tribunal upheld his election, thus confirming the ascendancy of Talban Gombe as a politician of note in the state. Indeed, in the whole of northern Nigeria, Dankwambo is now known as "The Last Man Standing" being the only governor left in the region on the platform of the PDP.
Since becoming governor, Dankwambo, has tried to give Gombe a new face. His major achievements are in the area of road construction, education and infrastructure, especially water supply.
Shortage of teachers
In the area of education, he set up the College of Basic Studies in Kumo, a College of Education in Billiri, and a School of Nursing in Kaltungo. The college of education, he said, needed to be set up because of the acute shortage of teachers for the primary and secondary tiers. In fact, he wants the teacher training colleges, long scrapped, back, to address these shortages.
What is more, Governor Dankwambo is executing uncompleted federal projects. He said he had to do this because at the rate at which the Federal Government funds the national budget, many of these projects will remain uncompleted for years, while the people continue to suffer.
These, and more are what qualifies Alhaji Ibrahim Hassan Dankwambo as one of Vanguard's Governors of the year.