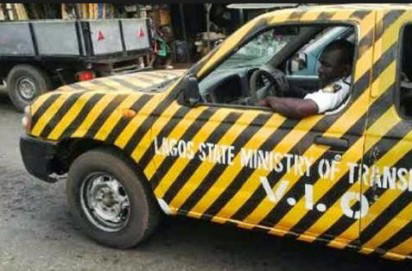 In one of his town hall meetings with the  people of Kaduna State, the Governor, Nasir El-Rufai stated among other things that he was set to tackle youth unemployment. To this end,  he announced that every year, ten people would be recruited from each of the 255 wards in the state to work as vehicle inspection officers, traffic warders, and environmental inspectors adding that the first set will be initiated before the end of this year.
If anyone was in doubt of where exactly the governor was heading, the doubts were cleared last Tuesday when the Vehicle Inspection framework in the state was dissolved According to a statement signed by Samuel Aruwan, the governor's spokesman, the closure of the office was due to the corruption and indiscipline of the personnel, and their lack of respect for the public.
I was not too sure if I can in reality identify a person called Vehicle Inspection Officer (VIO). I merely imagined that the governor was referring to some clowns we encounter on the roads checking vehicle particulars and drivers' licences. Apart from their rather rude approach, there are too many people on Nigerian roads who are purportedly doing something about vehicle and safety. Perhaps El-Rufai's posture was rather harsh but his description of the uniformed road officers can hardly be faulted.
What an average road user in Nigeria easily observes is that several agencies are busy on our roads extorting money from motorists on the guise of performing the same function of scrutinizing the particulars of vehicles.  This is a problem no one has been able to stop.
The road officers also put up behaviours that are unbecoming of people who are supposedly on duty to serve society. Quite often, they go into physical fisticuffs with drivers who refuse to be extorted as recorded by one citizen journalist in June this year at the PWD Bus Stop on Agege Motor road in Lagos. Of what use then are these officials to society? In other words, can we do without them? What has happened to Kaduna state and its people since their governor drove out the irritants from the streets about a week ago? If the truth must be told, we do not need them.
First, they do nothing about safety on our roads; instead they only prolong travelling time for those going to long distances and facilitate congestions and hold-ups in towns. Second, the fact that different agencies on the road do the same thing suggests an urgent need for the authorities to intervene. Painfully, each of their leaders is openly canvassing that it is only his operators that are empowered to inspect particulars.
The Corps Marshall of the Federal Road Safety Commission (FRSC), Boboye Oyeyemi was reported to have said during a recent visit to the Inspector General Police that Vehicle Inspection Officers (VIOs) were not permitted by law to check drivers' licences and vehicle particulars.
If so, why are they doing so? Boboye got an immediate response from the Abuja VIO. According to their Public Relations Officer, K. K. Iloduba, the inspection of vehicles and checking of vehicles' documents was the sole responsibility of the department. Iloduba stressed that the "FRSC has no business with vehicle papers on the road and regretted what he called the 'overzealousness' of FRSC officials, who have taken it upon themselves to perform the role of the VIOs.
Interestingly, after laying claims to a "sole responsibility" of his department concerning the checking of vehicle particulars, the PRO added that outside the VIO, the only body that has the mandate to demand for vehicle document is the Nigeria Police Force. We submit that these claims and counter claims confirm that although the Nigerian society like any other clime in the world, needs a framework for the conduct of public behaviour on our roads, the current operatives of our several agencies who are scrambling to extort money from the public are not those to be relied upon.
Going by their titles, it seems obvious that the inspection of vehicles ought to be restricted to road worthiness. Whereas a one-day old brand new vehicle could be road worthy whether it has particulars is a different matter. On the other hand, why does the FRSC make the checking of particulars a priority when damaged vehicles are here and there left on the highway to cause accidents? Besides, if FRSC is for federal roads, why are its operatives everywhere else? However, there are a number of other agencies which go by inexplicable names and whose duties can hardly be rationalized by their names.
The last time I visited my state-edo, the son of my neighbour and friend was said to have been arrested by some road operatives in Benin City. When I asked if it was VIO, Police or Road Safety, my friend said, they are "Oshiomhole boys". Curiously, wanting to know how to identify them, I asked for the colour of their uniform and my friend said "various". As for their functions, the information I got was not decent enough to be reproduced here. When next I see my governor on a flight where we usually meet, I will seek to be educated on the subject.
Meanwhile, whatever names or titles, road officials assume, there is need to make the point that the different agencies are aware that there are syndicates in their organizations who organize the issuance of fake particulars to unsuspecting motorists but they have done nothing to redress the situation.  Rather they only go after persons who possess fake certificates without making efforts to similarly punish their men engaged in the nefarious business. Almost every road official would quickly let off the hook, any arrested motorist who "cooperates". At the lower level of society this is a trend which negates the anti-corruption fight in Nigeria.
Thus, except the fight currently going at the top simmers down, the battle is lost from the beginning. At whatever level, the use of technology which is latest trend in governance is to me the best way to combat any societal infraction