By Ogaga Ifowodo
THAT you Col. Mohammed Sambo Dasuki whilst being National Security Adviser and Shaibu Salisu, whilst being the Director of Finance and Administration in the Office of the National Security Adviser on or about 17th April 2015 in Abuja dishonestly misappropriated certain property to wit: N750million belonging to the Federal Republic  of Nigeria which sum was transferred to Reliance Referral Hospital Limited's bank account in favour of one Aminu Baba-Kusa purporting same to be payment for organising prayers and . . . "
I read that lone charge again and again. It wasn't the first nor the last of the 19 charges, nor N750 million the largest of the mind-boggling figures cited in the monumental scandal of betrayal of trust, of kleptomania gone absolutely manic. But I was arrested by that charge.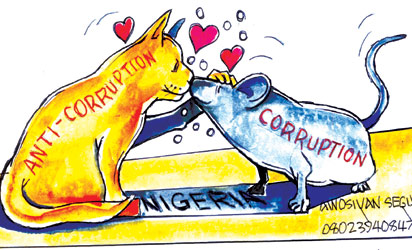 To pray to God, it emerges, one does not simply open one's mouth — and kneel down, close one's eyes, speak in tongues or utter any gibberish purporting to be the language of the Holy Spirit—and ask for the Almighty's mercy and grace. On the contrary, prayer costs money. A mighty amount of money. And I ask: to what God did the men and women of God, the Daddy and Mummy general overseers, pastors, prophets, prayer warriors, imams, miracle-workers pray kneeling, standing or prostrating on bundles of mint-fresh naira and dollars?
No priest of an African religion is ever called to the scam of national prayers to resolve our self-inflicted political crises or any of the special prayer sessions that Nigeria's governments, ever big on faith but so small on works, always need, particularly at election time. So it must mean that the God to whom the N750 million prayer money was paid through his anointed servantsis the God of the two overbearing Abrahamic religions in Nigeria, Christianity and Islam. The Lord's prayer taught by Jesus Christ makes no mention of money.
The closest reference to money being in the plea, "Give us this day our daily bread," it being understood that God the father gives it free to his children. Thus, the prayers for which National Security Adviser Dasuki—acting on behalf of President Jonathan—made all of us poor and harried Nigerians pay so dearly was the God of money, of corruption.
And it follows that if God has changed his mind about the love of money being the root of all evil, then there can be no evil. If he will take blood money—how many soldiers died because they were thrown into battle with Boko Haram literally with nothing but their uniform, how many citizens were slaughtered, grievously wounded or raped as a result of this "419" to shame all Yahoo boys?—then why should any of the mortal beneficiaries not do likewise? Any ruse would do, not least re-electing Jonathan, God's beloved son, whose "reign" saw to the unmitigated suffering of his children in Nigeria.
And so none involved in this naira-and-dollar bazaar flinched. It is all summed up by Bafawara who tells us that former minister of state for finance Bashir Yuguda calledto tell him "there is money to be given for (sic) the North-West Campaign Committee"—N600 million, in this case—"for the PDP Campaign for General Election" (sic).Yuguda "did not tell me where the money was coming from," he adds, and "I did not ask him where the money was coming from."
Don't ask, don't tell!It is bad enough that a mere adviser to the president was allowed to become the self-declared "clearing house" for arms procurement for all of the security forces. Worse is that he should then proceed to share the astronomical sums of $2.2 billion and N643 million—to say nothing of the $1 billion loan previously obtained for the very same purpose—in any way he pleased but mostly for Jonathan's re-election.
But worst of all was the total abdication of responsibility and criminal breach of trust. Starting with President Jonathan. Dasuki has consistently said that he acted with the approval of his boss. And Ngozi Okonjo-Iweala, former minister of finance, has released a memo which corroborates Dasuki. She, too, did not ask any questions because Dasuki's request for $300 million and £5.5 million was "sequel to the meeting you [Jonathan] chaired with the committee on the use of recovered funds where the decision was made that recovered Abacha funds would be split 50-50 between urgent security needs to confront Boko Haram and development needs."
But knowing that she was abdicating her responsibility, she played Pontius Pilate and washed her hands off any accountability by naming the theft about to take place "borrowing" and asking that the NSA "account to Your Excellency for the utilisation of the funds."
The sheer recklessness with which billions were distributed towards illegal ends numbs me. Can such highly placed "public servants" be so devoid of any sense of probity and responsibility? To be frittering away billions, most of it borrowed, Nigeria being nearly bankrupt at the time in question, while bare-armed or ill-equipped soldiers were being mowed down or maimed by Boko Haram? Well, God does not ask where the money came from. Neither do we any longer in Nigeria. And until we begin to ask, the evil of corruption will continue to rule us an implacable deity. That we may begin to ask, it is time our jails started receiving millionaire and billionaire thieves as their long-awaited inmates.