By Henry Umoru & Joseph Erunke
ABUJA—DEPUTY Senate President, Ike Ekweremadu, has described recent fire incident that claimed eight lives and destroyed valuable property in Nnewi, Anambra State, as a major setback to the economic development of the South East.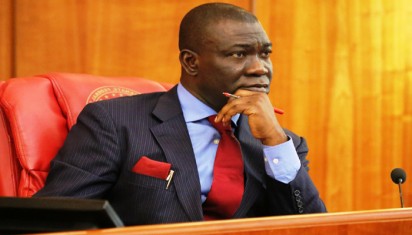 Following the development, he has commiserated with Chicason Group of Companies and the people of Nnewi.
Ekweremadu spoke during a sympathy visit to the Chairman of Chicason Group, Dr. A. C. Okafor, at the company's office in Nnewi, after touring the scene of the incident, where he expressed deep sorrows over the fire disaster, especially the eight lives lost to the inferno.
In a statement by Mr Uche Anichukwu, his Special Adviser, Media, he said, "We are here to sympathise with you, to sympathise with the people of Nnewi, the people of Anambra, Nnewi business community, and all the families affected by this disaster.
"For me, this is also a major setback for the business development, not only in Nnewi, but the South East and the nation. But our major concern now is the families of those who lost their loved ones. I will like to use this opportunity to condole them and to pray God to grant the souls of the deceased a peaceful repose."
The Senator prayed against any re-occurrence, noting that he knew Dr Okafor as a man who places premium on ethics and the safety of the business environment.
"Knowing you very well, I am sure you must have taken all kinds of precautions, but we are still human and I therefore, pray that this kind of thing will not happen again," he said.
He commended the company for taking immediate steps to reach out to the families of the victims and called on all to rally round the families of those affected by the inferno in the spirit of the yuletide and Nigerian culture of charity.
"I know that you feel strongly for these families as well. I understand that you are just returning from one of the families. You have always been a man of the people, you have invested in goodwill, you have invested in businesses and human development. So, in times like this, we want to assure you that you are not standing alone, we are with you and God will also stand by you to ensure that you and the people of Nnewi pull through this major challenge."
In his response, the Chairman of Chicason Group, Dr Okafor, expressed gratitude to God for limiting the scale of the incident, adding that if the fire had entered the factory, it would have resulted in monumental loss of human and material resources in the community.