By Tabia Princewill
The USA PATRIOT Act or the "Uniting and Strengthening America by Providing Appropriate Tools Required to Intercept and Obstruct Terrorism Act of 2001" is a set of laws created to deter and punish terrorist acts in the US and to enable better investigation as well as detect and prosecute those guilty of funding terrorism and money laundering.
It also provides measures to closely observe "foreign jurisdictions, foreign financial institutions, and classes of international transactions or types of accounts that are susceptible to criminal abuse". I am not asking for the US government to perform the oversight duty the Nigerian Senate and House of Representatives have failed at ensuring.
If I were, I would perhaps be justified given that it took British magistrates to successfully prosecute James Ibori who, if not for foreign intervention, would simply have been fined a paltry sum like his former colleague, Governor Igbinedion. The US Patriot Act, a set of extraordinary measures designed to fight terrorism and the illicit cash flows that support it, were signed into law by former President Bush following the 9/11 attacks.
President Obama signed a four year extension on certain key provisions within the law, namely surveillance of individuals suspected of having links to terrorism, analysis of their business records etc.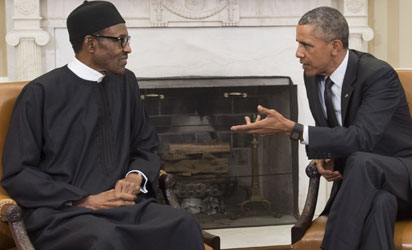 I believe the Patriot Act should be adapted to tackle corruption, those guilty or suspected of sponsoring ethno-religious violence and generally, putting our national concord at risk.
Pseudo human rights activists
The pseudo human rights activists will protest some politicians' movements being monitored but if we can agree that we are serious about saying "never again" to the sort of despicable corruption and treasonous offences Dasuki and his accomplices are accused of, then we will need a stronger set of laws than what is currently available.
In the US, with any set of extraordinary measures, Congress votes to enact them then votes again, upon their expiration to prolong their use. The question is, can the Nigerian National Assembly with many of its dubious characters and profiteers, be trusted to seriously and sincerely deliberate a set of measures to speedily investigate and prosecute their political allies, their friends, their peers, some of whom sponsored their candidacies?
In the US, if national security is at risk, under the Patriot Act, indefinite detentions are permissible (with probable cause for doing so). It seems drastic but your average law abiding citizen is rarely suspected of terrorism (or in our case corruption and grand larceny).
If such a law were to be passed in Nigeria, it is not you or I reading this who would be uncomfortable. It is those with the money and power to fund terrorist acts and moreover, those with the desire to ferment treasonous plots against the Nigerian state and its people, who would have to worry. Imagine if the DSS routinely investigated politicians suspected of promoting ethnic violence during elections for example. Or if the DSS could work with the EFCC to freeze the cash flows used to buy votes, or to sponsor mobs of angry, jobless youths?
One key part of the Patriot Act deals entirely with removing obstacles to investigating terrorism. I am in favour of a Nigerian Patriot Act to specifically punish judges found guilty of aiding corruption. What is a perpetual injunction to stop suspects from being investigated? How is this legal? The Patriot Act allows rewards (some financial) for those who aid terrorism investigations.
It would be interesting to see the turnaround in behaviour if Nigeria rewarded those who fight corruption and denounce religious groups or politically motivated persons who sponsor or encourage faith or ethnic based tension. One of the most interesting parts of the US Patriot Act is the provision for "National Security Letters", a form of subpoena by the FBI and CIA whereby a letter is issued to a suspect asking him or her to relinquish certain records pertaining to the investigation.
The Department of Defense and related agencies don't require either probable cause or even a court order to issue these letters, which comprise of "gag orders" prohibiting the suspect from so much as speaking of the letters' existence.
Financial terrorism
Is it harsh? Is it ruthless? It gets the job done, which is why since 9/11, the US has faced no attacks of that magnitude. So, we must ask ourselves, are we serious about tackling corruption?
Corruption is financial terrorism, leading to destruction of property and loss of life: nothing in our recent history proves this more than the Dasuki Gate scandal. We need our own version of a Patriot Act because you cannot treat such grave offenders with kid gloves. The US Patriot Act  includes "measures to prevent use of the U.S. financial system for personal gain by corrupt foreign officials and facilitate repatriation of stolen assets to the citizens of countries to whom such assets belong" (US Patriot Act, 2001). President Buhari pointed out during his visit to the US that foreign countries assist corruption in developing nations by turning a blind eye to illicit cash flows.
It is still too easy for international financial institutions to house the proceeds of corruption and these organisations should be charged to court in accordance with local and international money laundering laws. Remember the Halliburton case?
The US government made billions of dollars by fining the company for flouting US and international laws. What did the Nigerian treasury make? Was it not us this company primarily defrauded? Nigeria has been too grateful to foreign banks for returning the Abacha loot: why did they accept it in the first place?
In doing so, they stole from us and made money off of this through interest accruing over the years. Nigeria finally appears to be heading in the right direction. But the President, the foreign affairs minister, should strengthen international cooperation to ensure it is more difficult if not impossible for our commonwealth to escape these shores.
What happens to the money once it is returned? Our version of the Patriot Act could also include provision for the prosecution of those who aid or allow it to be re-looted. At the heart of the US Patriot Act is the desire to protect citizens from any internal or external threats. Ironically, all threats to Nigerians have so far come from their elected officials and representatives. This new dispensation has staunchly refused to protect those guilty of corruption and it is perhaps the greatest thing to happen in this country: finally, the same set of rules will apply to all.
The Nigerian Army
It's confrontation with members of a Shi'ite sect in Zaria during which excessive force was perhaps used (abroad to disperse a crowd rather than real ammunition, rubber bullets and tear gas are used) to me, points to a wider, more persistent problem.
This particular sect is well known for publicly protesting Western actions in the Middle East. If only Arabs would protest poverty in Nigeria! In the name of religion and dubious freedom of association, their sometimes violent outbursts are tolerated. Armed groups across this country clash with law enforcers as if the right to bare arms were a given in our society.
It is not. Some groups act as parallel governments, it is unacceptable. The army's handling of the situation might not have been ideal but order must be restored.
Olusegun Obasanjo
A CONTROVERSIAL figure no doubt. He recently called on wealthy Nigerians to sponsor projects in their villages. Community spirit in Nigeria is practically dead.
However, if Nigerians are so self-centred, it's a situation he indirectly helped create. Take Lagos' infrastructure that didn't grow at the rate its population did, probably because in the Tinubu years, Obasanjo was accused of withholding Lagos' federal allocation.
Then there is the small matter of the Yar'Adua/Jonathan combination which Obasanjo "gifted" to Nigerians for refusing his third term. Due to their abysmal record, the majority saw Buhari as an opportunity for change. So perhaps things fall apart to come together again.