By Favour Nnabugwu, Caleb Ayansina & Chris Ochayi
Abuja—Minister of Power, Works and Housing, Mr Babatunde Fashola, has disclosed that the former ministry of works owed 206 contractors over N2 trillion, of which only N13 billion was released to the ministry out of the N18.132 billion it budgeted for.
Speaking Tuesday during his maiden news conference tagged "Setting the Agenda for Delivering Change," Fashola said highway tolling will be re-introduced to raise additional funds to finance road infrastructure and ensure efficient road maintenance.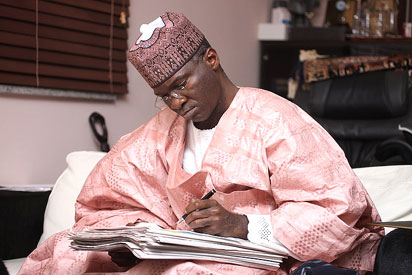 Housing estates for states, FCT
He also revealed that the Federal Government would spend N10 billion to build low income housing estate in each of the state of the federation and the Federal Capital Territory, just as he added that the government will add another 2,000 megawatts to the country's stock of power within 12-15 months.
Fashola explained that, "The Federal Government budgeted N18.132 billion in 2015 and the Ministry of Works got N13 billion for all roads and highways in 2015, although it has contracts for 206 roads, covering over 6,000km worth over N2 trillion."
He added that for the current administration to deliver on its promises to Nigerians, the government has to increase its capital budget to enable it significantly meet infrastructural needs of the nation.
"The records that have been made available from previous budgets show that the last time Nigeria budgeted over N200 billion in a year's budget for roads was in 2002. It seems that as our income from oil prices increased over the last decade, our spending on roads decreased.
"We are at a point where the 2015 Budget made only a provision of about 16 per cent amounting to approximately N557 billion for capital spending out of a total budget of over N5 trillion. "We are at a period when oil prices have dropped from where they were a year ago. We spent less on capital when we earned more from oil, today we must spend more on capital even as we earn less.
"The first thing that must change is the Capital to Recurrent ratio of the budget, and our colleagues in the Ministries of Finance and Budget and Planning are working on this and they will address you at their own time on the changes they have made and what citizens must do to enable them achieve that plan."
He added "The budget is the article of faith of every serious nation and and our resolve to do more capital spending with less resources must be indicative of our seriousness to reflate this economy."
Fashola noted that lack of funding had caused many construction companies to retrench their workers due to the huge debts owed them by the various tiers of government.
Jobs creation
The Minister said if the federal government is able to pay those construction companies, the companies will be able to reinstate most of the employees they laid off and by extension help the government achieves its promises on job creation.
"Jobs have been lost in the road construction industry which affected our GDP figures and we started talking about recession. As at May 2015, many contractors have stopped work because of payment, and many fathers and wives employed by them laid off as a result."
He said sampled four companies showed that 5,150 workers have been laid off as at March 11, 2015 and if we realise that there are at least 200 contracts pending, on the basis of one company per contract.
He said in one of these companies junior staff that were laid off were between 1250 and 1800; Senior Staff 300 and 550. Expatriates dropped from 500 to 250. However, the situation could get worse. In the second company local staffs laid off were between 1500 and 3000. Expatriates were between 50 and100. In the case of the third company the total ranged from 1100 to 2500 with more to go.
By the end of September when budgets had been fully exhausted these numbers worsened but by paying those contractors, we will restore the lost jobs as an economic intervention of our promise of change.
While promising that money generated from the toll gates will be properly accounted for and judiciously put to use, the Minister said "maintenance would be our watchword. We are setting up a robust maintenance regime to keep our highways in good shape.
Focus on states link roads
The Minister further said that the Ministry will have to focus on states link roads and roads with the heaviest traffic flow before it will continue with some other ongoing projects.
He said, "Our ability to achieve connectivity of roads depends on capital spending in 2016 to pay contractors and get them back to work."
Moves to recover Federal roads
Fashola stated that the ministry will leave no stone unturned to recover the full widths of federal government right of way from those who have encroached on it whether by building structures or any other way they have infringed on the roads.
"In order to make the roads safer, we intend to re-claim the full width and set back of all Federal roads, representing 16 percent and about 36,000km of Nigeria's road network by immediately now asking all those who are infringing on our highways, whether by parking, trading, or erection of any inappropriate structure to immediately remove, relocate or dismantle such things voluntarily. This will be the biggest contribution that citizens can offer our country as proof that we all want things to change for the better."
Meanwhile, Fashola said the Housing sector presents an enormous opportunity for positively impacting the economy to promote not only growth but inclusion.
"There have been a couple of National Housing policies and we intend to appraise the most current one to make changes only if necessary.
"Government will lead the aggressive intervention to increase supply, by undertaking construction of public housing and formulate policies that will invariably lead to private sector participation and ownership to reduce our housing deficit."
Fashola maintained that the government would understudy 'Jakande and Shagari's housing estates model to develop an affordable housing unit for the masses, by building 40 blocks in each state.
He noted that the immediate past administration budgeted less in housing sector of the economy, the trends that would be reversed.
"So for us, consistency is key, annual spending is an imperative. We must change the budget for national housing from N1.8 Billion in 2015 to something in the hundreds of billions of Naira that matches our ambition.
"If we can spend N10 billion in each state and the FCT on housing alone every year subject to (a) the capacity to raise the money and (b) the capacity to utilize the funds having regards to our current construction methods and the time it takes to complete construction, which our ministry intends to change by research and industrialization of housing," he said.
Speaking on the Federal Government's development agenda for the power sector, Fashola said by far the most complex challenge is the problem of tariff. It is complex because it is more in the hands of citizens than in the hands of Government.
"The role of Government is to set the tariff and in doing so, Government has committed to what is called a Multi-Year Tariff Order. This was done in order to attract investors to the market; otherwise we will not have achieved the privatization if the price of the product is not attractive to the investors.
"The tariff is the price of producing power. It covers cost of generation, gas purchase, transportation, transformers, staff costs and so on, disaggregated and charged per kilowatt/hour to make the business of power profitable.
"What Government did was to spread it over a number of years so that the impact is not felt at once but over a periodic incremental process.
"I know that it has been a contentious matter, but I make this fervent appeal to consumers to give us the benefit of doubt, to forbear and accept it.
"This will help Government to maintain its credibility with investors, who will then have confidence in the sector and our economy that we are a Government that keeps it words and honour its contracts."