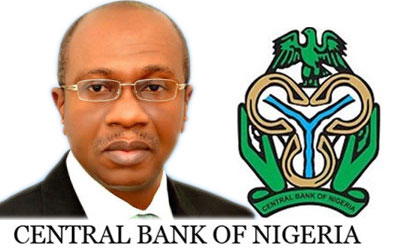 CBN Governor, Mr Godwin Emefiele
Governor of Central Bank of Nigeria (CBN), Mr. Godwin Emefiele says the apex bank is evolving additional measures to boost the nation's economy and stabilise the naira.
Emefiele made the remark at an Interactive Session with Media Editors in Abuja.
He declined to give details of the measures and modalities for their implementation.
Don't ask me because I will not disclose our strategy for now'', adding that doing so would be counter-productive and pre-emptive.
The CBN boss explained that the Nigerian economy was not as bad as being portrayed when compared with other economies in Africa.
He advised importers to restrict their imports to raw materials and equipment rather than finished products and food in order to reduce the pressure on the nation's scarce foreign exchange.
"CBN will soon start a nationwide campaign to sensitise Nigerians to items excluded from importation. This is part of efforts to save more foreign exchange and stabilise the nation's currency. The solution to free fall of the naira is by controlling the demand for foreign currencies such as the dollar.
"If we are able to reduce importation, the demand for the dollar will fall automatically."
Emefiele said the country should go back to the farm to produce what was needed.
Public servants should also engage in farming because the only business public servants are allowed to engage in is farming. And you don't need power to farm tomato, vegetables or fish'', Emefeile said.
He blamed unscrupulous businessmen who engaged in illicit activities for exerting intense pressure on the dollar and other currencies.
According to him, the apex bank has ensured reasonable stability in the value of the naira by keeping official exchange to the dollar between N196 and N197 to the dollar.
Emefiele advised Nigerians to always approach their banks for their request for foreign exchange at the official rate as against patronising the black market operators.
"CBN does not have plenty dollars to sustain the bureau de change'', he stressed.
The CBN boss, however, insisted that the 22 per cent depreciation of the naira was reasonable when compared with other emerging economies adversely affected by global economic recession.
"Zambia, for example, has depreciated its currency by about 48 per cent, Angola by 25 per cent while Brazil depreciated its currency by about 48 per cent from October last year till now.
Structural adjustment
"Our situation is not as bad as people think. When you devalue, there must be a structural adjustment. We have never followed up with structural adjustment. So, the approach we are adopting at the moment is that, having done a 22-per cent adjustment in the currency, let us structurally adjust our position.
"Let us say, look, stop importing rice; stop importing toothpick; stop importing tomato from South Africa; stop importing 20 million eggs daily from Africa.
"That's the gist of what we are saying. We are saying Nigeria can do without these items. And the truth is that the reserves are no longer there.''
Emefiele said CBN had created the enabling environment to encourage the growth of small scale businesses through the grant of soft loans to small business operators.
He said only N60 billion of the more than N200 billion soft loans meant for SMEs had been accessed so far.