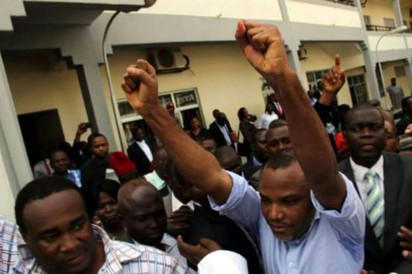 Nnamdi-Kanu in court
By Chimaobi Nwaiwu
Nnewi —Former President General, Onitsha Markets Amalgamated Traders Association, OMATA, Chief Pius Anaekwe has accused the All Progressives Congress, APC, government in the country of bringing back dictatorship to Nigeria's politics, urging Nigerians to be at alert.
Addressing newsmen in Onitsha, Anambra State, yesterday, Chief Anaekwe accused the APC government of thriving on controversy and crisis and doing everything possible to perpetuate controversy and crisis situations in the country.
"The APC government loves controversy and crisis, and they thrive on it. Since the swearing- in of the present government, Nigerians have never rested or known peace.
"It is one crisis or the other and they are enjoying it, they cannot allow people granted bail to go home or allow people to air their grievances through peaceful protest and demonstration.
"Why must somebody be granted bail by the court and you want him to go to jail even when he has not been convicted. Nnamdi Kanu of Indigenous Peoples of Biafra, IPOB, is already serving in prison sentence in the hands and cell of the Department of State Services, DSS.
"Is APC trying to confirm what the Bible said, that when bad people are in leadership, the country and people will never know peace. If you promise to rule through the rule of law, you should allow somebody who has been granted bail by a competent court to go home and be attending to court from his house, it's only the court that can sentence somebody not the Police, or DSS."