By Esther Onyegbula
LAGOS—Controversy is currently trailing the death of six unidentified women, whose corpses were dumped in a canal at Anibaba area, off Akele Street, Ikorodu, Lagos, at about 3.30 p.m. on Sunday.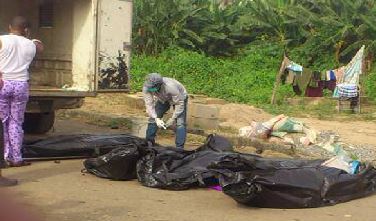 It was learned that the six mutilated female corpses were recovered in Ikorodu between Thursday and Sunday morning besides Bugon filling station and Water Corperation, Awolowo Way, Ikorodu.
According to reports,  the first mutilated corpse was found on Thursday while five others were recovered on Sunday.
Vanguard learned that some of the bloated corpses were recovered headless while the breast and private parts of others were missing.
A resident identified as Aduke Ere who spoke to Vanguard said: "We don't know how these corpses found their ways into the canal. On Thursday morning,  that was when the first corpse was discovered. Residents had to inform the police who came and recovered the corpse.
On Sunday, five more corpses were seen where the first one was recovered on Thursday. Most of the corpses were headless. We had some whose body parts were missing."
A landlord who spoke to Vanguard on the condition of anonymity stated that everything is shrouded in secrecy as the whole community is silent about this discovery.  "I don't think these ladies are from Ikorodu community because nobody is missing. What I think is that these people are not from this community because, about three weeks ago,  lots of people from different places came in their droves to celebrate Ikorodu Day which was marked with a lot of fanfare and activities. I think that is the only thing that explains the large number of causalties."
Confirming the incident,  Lagos State police spokesman, DSP Joseph Offor, told Vanguard that Policemen from Ijede Divisional police station recovered six corpses from Anibaba River in Ikorodu area of Lagos. "By the time the corpses were discovered, their bodies had started decomposing.   So,  we had to contact health workers who recovered the corpses to prevent any health hazard. Because of the state of their remains, we couldn't identify the corpses. We are waiting for the reports of the health workers as investigation has begun."