A Lagos-based sports philanthropist, Toyin Sodipo, has urged the Nigeria Football Federation, NFF, to retain the Chief Coach of the Under 17 national team, Emmanuel Amuneke, even as he urged President Muhammadu Buhari to honour the victorious boys for making the country proud.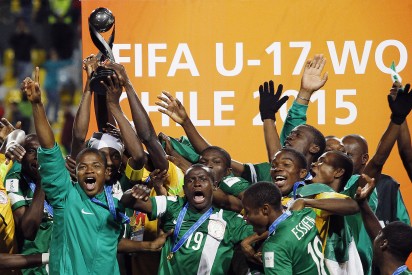 Sodipo, who congratulated members of the Golden Eaglets on their record breaking performance of winning the FIFA Under 17 world cup, for a record fifth title, said he was not surprised with the impeccable performance of the Emmanuel Amuneke tutored team, as he had earlier predicted that the team would return home with the trophy.
Urging the NFF to retain Amuneke, he said: "We should allow him to continue this role. You don't change a winning coach. Amuneke should be retained to search and groom the next golden Eaglets. He must not be placed under any pressure. Youth team coaches are rare. We need to start preparing for the next World Cup in 2017."
The Tee & Tife boss, further advised the NFF to offer Counselling to members of the victorious Golden Eaglets before signing for European Clubs.
His words: "These boys are now the toast of major clubs in Europe and we must offer advice that will protect their future. Football agents and scouts are desperate to sign them but we must advise them so as to not jeopardize their future. We would like to see these boys forming the bulk of the Super Eagles at the 2022 World Cup. In the past, we have seen some of our youngsters signing slave contracts due to lack of proper counseling."
The oil merchant also appealed to the Federal Government to honour members of the victorious Golden Eaglets.
He said: "President Muhammadu Buhari is very lucky to have witnessed two world cup titles during his regime. The first time we won it at China '85, he was the Head of State, and 30 years later, we won it again while he was a Civilian President. I think the boys deserve to be honoured."
Recall that the Golden Eaglets have reached the final on eight occasion and have won five FIFA under 17 World, the best performance of any country in the Age grade tournament.
Top scorer Victor Osimhen set a new record of 10 goals in the competition, breaking the 14-year record set by Frenchman, Florent Sinamon-Pongolle at the 2001 edition.
Chile 2015 also marked the first time Nigeria will be winning the competition outside the Asian Continent having won at China '85, Japan '93, Korea 2007 and UAE 2013.
The Golden Eaglets lost in the finals of 1987, 2001 and 2009 where they lost to Switzerland at the Abuja National Stadium.
Subscribe for latest Videos